Can Drone Technology Find the Nigerian Girls?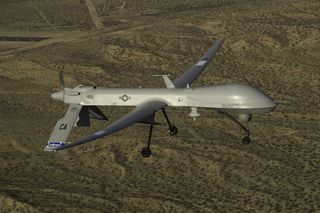 (Image credit: U.S. Air Force photo by Tech. Sgt. Effrain Lopez)
The search for more than 200 missing Nigerian schoolgirls who were kidnapped a month ago is going high-tech, but questions remain as to whether high-flying U.S. drones will manage to find them. President Obama this week ordered the deployment of 80 U.S. armed forces to neighboring Chad.
"These personnel will support the operation of intelligence, surveillance and reconnaissance aircraft for missions over northern Nigeria and the surrounding area," the White House said in a letter released Wednesday. "The force will remain in Chad until its support in resolving the kidnapping situation is no longer required."
Northern Nigeria is where the Islamist terrorist group Boko Haram is suspected of holding the girls. The group is also suspected of bombings through Nigeria this week that have left hundreds of people dead. The U.S. forces will be operating an armed Predator drone, two Global Hawk reconnaissance drones and surveillance airplanes. The United Kingdom has also offered to fly its own aerial assets.
International outcry over the fate of the girls and the lack of action by Nigeria's own military has spurred the White House action. But the Pentagon is not likely to put U.S. boots on Nigerian soil, experts say.
One U.S. military expert says flying drones over Nigerian forests won't do much unless there are corresponding agents on the ground gathering intelligence and feeding it back to drone pilots.
Drones "just don't fly around the countryside and look for something," said Marc Thiessen, a senior fellow at the American Enterprise Institute. "Drones are only as effective as the intelligence networks on the ground. I can guarantee these networks in Nigeria are not the same as in Afghanistan, Pakistan or Yemen. The drones are a great tool, but like everything in intelligence, one tool isn't a silver bullet."
In addition to carrying two Hellfire laser-guided missiles, the Predator carries infrared sensors, color and black and white cameras, and can stream video for flights up to 24 hours, according to the Air Force. The Global Hawk has a similar range and includes special motion-detecting radar systems.
Still, neither of these drones can penetrate forest canopies or inside tents. That means their best chance may be to catch movement of trucks or groups of people in the open.
Once the schoolgirls are spotted, an international rescue force might be able to use a lower-flying drone such as the Raven, Wasp or Puma to pinpoint exactly who they are and what they are doing.
"They can tell the difference between a shovel and a machine gun," said Steve Gitlin, vice president for communications at Aerovironment, which has sold more than 9,500 such unmanned aircraft to the U.S. military. These small, 3- to 13-pound drones can be assembled and launched by troops on the ground with a quick toss, according to Gitlin, and fly only a few hundred feet above ground. They also have special infrared radar that allow them to observe people at night. "It draws a red box around them, and makes it easier to look for moving people," he said.
The Nigerian government purchased several Israeli-made drones in 2006 to hunt rebels, but officials never ordered spare parts of learned how to use the aircraft, according to Israel's Haaretz newspaper.
"To the best of our knowledge, these systems aren't operational," Tsur Dvir, marketing officer for Aeronautics Defense Systems, a firm based south of Tel Aviv that supplied Nigeria with Aerostar unmanned aerial vehicles, told Haaretz.
Absent any Nigerian drones or Nigerian troops, some local residents are fed up. They are reportedly forming vigilante groups to find the kidnapers armed with low-tech bows and arrows.
This story was provided by Discovery News.
Stay up to date on the latest science news by signing up for our Essentials newsletter.