Magellan Echo: Smartwatch Review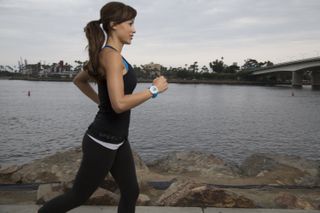 (Image credit: Magellan)
The Magellan Echo is a relatively stripped-down, sports-focused smartwatch that pairs with a growing list of apps for running, cycling, golf, hiking and other activities.
A few of the basics: The Echo is currently compatible only with iPhone. At a retail price of $149, or $199 with a heart rate monitor, this watch is relatively inexpensive among watches that you can link with your phone, and its utility is narrowly focused on sports. The Echo doesn't have some of the fancier smartwatch features, such as voice control, a camera, or access to calls, email or texts.
You can, however, use it to put the real-time data collected by sports apps on your wrist, making your time, distance, pace and other stats easily accessible. So, no more fumbling to get through your security code while jogging in place at an intersection. Once the watch is synced with an app, you can stop and pause a workout from the watch, use it to receive workout-related notifications and skip through your playlist. It also uses a replaceable battery, which can last for months, so it doesn't need to be charged, as some fitness trackers do.
I was uninitiated to the world of fitness apps when I began using the Echo for workouts, mostly street running. I am not particularly tech-savvy, so figuring out the apps plus the watch took some effort and time. But once I was over these hurdles, I enjoyed the immediate feedback the watch provides; it gave me a better grasp on my workout and pushed me to do a little more.
Design/Comfort: ★★★☆☆
Wearing this smartwatch doesn't feel like wearing a regular watch, it is bigger and bulkier, but that's the norm for smartwatches. When not tracking your workout, the smartwatch functions as a regular watch, displaying the time and date on its round face. The simple, colorless display of the watch face can be adjusted through the Magellan Echo utility application you install on your phone. [Video: How to Get the Most from Wearable Devices]
I found that the Magellan Echo's size and design a good fit for exercising — it looks sporty — but I wouldn't wear it to the office or out to dinner.
The wristband comes in a number of colors, from basic black to blue and bright pink. The rubberlike thermoplastic polyurethane makes it is easy to clean, and the watch itself is water-resistant, meaning it can withstand some sweat or rain (but don't take it swimming). Unfortunately, the wristband's connection to the metal fastener broke on one side while I was using it, suggesting to me that it isn't as durable as it looks. (I write this with the caveat that the watch was not new when I received it, and I have no idea how much it was used before I got it.)
User-friendliness: ★★☆☆☆
When using the Echo, the app you choose will determine your experience. Each app developer customizes the way their app works with the watch, although Magellandoes issue guidelines suggesting, for instance, that the bottom right button be used to start and pause recording. This flexibility led to some confusion for me, as I attempted to use the watch with a number of different apps. All of the apps sync with the watch in a similar way, but the options for collecting data, and the degree to which I could customize them, varied, and I had to get through a new learning curve for each app.
It's also important to note that, unlike with other smartwatches, the Echo can pair with only one running app at a time, including the utility app. So if you want to switch apps, you need to quit the first one before syncing the watch with the second. There is, however, one partial exception to Echo's one-app-at-a-time rule: music. You can cue up iTunes before you start recording your workout, and then when you hit a dud in your playlist, you can skip it by pushing a button on the watch.
Getting the sequence of actions necessary to make this happen took a few tries for me, but once I got it, I enjoyed using this feature for gym workouts.
Value of Information: ★★★★★
Echo can collect and display a variety of data, from the basic time and distance of your workout, to splits (increments within a race) and cadence (steps per minute while running, or cycles per minute while cycling), depending on the app and how you set it up. The Wahoo Fitness app allows a great deal of customization — it contains pre-set data configurations on a series of pages, so you can see your distance and time, then pace, and then music as you toggle through the data by tapping the screen. You can customize these pages from a wide range of data options.
Depending on your needs, the Echo offers some other information streams that could be useful. It currently provides workout-related notifications, such as lap summaries. And in a handy throwback, Echo's watch mode includes a stopwatch, one that does not involve your phone at all. In the coming months, Magellan is planning to add text and caller ID notifications, as well as the capacity for workout prompts when the watch is connected to an app. [10 Technologies That Will Transform Your Life]
Enjoyment Inspiration ★★★☆☆
Whether you are training for a race or just looking for more detailed feedback on your performance, the Echo could be a helpful piece of equipment. Before trying out the Echo and its apps, I had only a general idea of how far and at what pace I was running. And while running, I found glancing down at the data helped me pick up the pace a bit. If I was training for a race, I know it would be indispensable.
The music control feature is limited; it allows you to stop or start, and skip one song at a time and displays the new song. Perhaps I need to spend more time updating my playlist, but I enjoyed the simplicity of this feature, since it is quite difficult, while using other devices, to make a similar adjustment in the middle of an intense workout.
Conclusion: 13 out of 20 stars
The bottom line: the Magellan Echo would be well suited for someone who has already been using a fitness app to track workouts, and wants to take it to a new level. As a newbie with a low tech IQ, I found the inconsistency among the apps frustrating, and the time I spent trying to figure it out ate into my workouts. The break in the wristband was also problematic.
However, despite these hurdles, I found the Echo to be a handy tool for getting a better grip on what I am accomplishing during a run, and I was impressed with the variety of data it captured. Anyone looking specifically for a sports-focused watch, without all the other bells and whistles, should consider it.
Follow Live Science on Twitter @livescience. We're also on Facebook & Google+.
Stay up to date on the latest science news by signing up for our Essentials newsletter.
Wynne was a reporter at The Stamford Advocate. She has interned at Discover magazine and has freelanced for The New York Times and Scientific American's web site. She has a masters in journalism from Columbia University and a bachelor's degree in biology from the University of Utah.