New Solar Plane Aims for Round-the-World Flight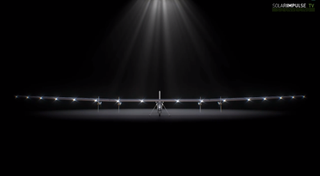 (Image credit: Solar Impulse)
A new solar-powered plane that will be used to fly around the world in five consecutive days without using any fuel was unveiled today (April 9) in Switzerland.
Pilots André Borschberg and Bertrand Piccard revealed the futuristic flying machine in a ceremony in Payerne before an audience of industry officials, reporters and dignitaries. The solar plane, named Solar Impulse 2, will be used to circumnavigate the globe in 2015, with the Swiss pilots hoping to accomplish the first around-the-world flight in a solar-powered aircraft.
"Today, we are one step closer to our dream of flying around the world on solar power," Piccard said at today's event. [Images: Cross-Country Flight in a Solar-Powered Plane]
Piccard described his pride in showcasing the Solar Impulse 2 plane, and said the aircraft represents true pioneering spirit, as many aviation experts initially said it would be impossible to engineer such a lightweight but resilient solar plane.
"When Solar Impulse was born 12 years ago, and we could show the enormous wings and the light weight of its structure on computer designs, all the specialists in the world of aviation started to laugh," he said. "Today, this airplane exists. It's the most incredible airplane of its time. It can fly with no fuel, day and night, and we hope that we can make it around the world."
Last year, Borschberg and Piccard flew a first-generation prototype of the Solar Impulse plane on a record-setting coast-to-coast flight across the United States. The journey from California to New York took two months, and included five planned stops. Solar Impulse ended its cross-country flight in New York City, touching down at John F. Kennedy International Airport on July 6, 2013.
The Solar Impulse planes are the first to be able to fly day and night without any onboard fuel. The ultra-lightweight planes are powered entirely by solar panels and batteries, which charge during the day to allow the plane to fly even when the sun goes down.
Since last year's flight, engineers have made adjustments to the design of the solar plane in preparation for the around-the-world mission. Since Borschberg and Piccard will be flying for longer periods, and across greater distances, engineers worked to improve the quality of the plane's onboard batteries and used revolutionary materials to lighten the plane, thereby making Solar Impulse 2 more energy-efficient.
Solar Impulse 2 has a wingspan that stretches 236 feet (72 meters), longer than a Boeing 747 commercial jet. The wings are covered with 17,000 solar cells that power the plane's various systems, according to company officials.
The upgraded aircraft also features a larger cockpit with better ergonomic designs, which will help Borschberg and Piccard live comfortably in the space during the nearly weeklong flight.
Solar Impulse 2 will undergo a series of test flights in May, followed by training flights over Switzerland, company officials said. Borschberg and Piccard are aiming to begin their round-the-world journey in March 2015.
The plane will take off from the Gulf region, and will fly over the Arabian Sea, China, the Pacific Ocean, the United States, the Atlantic Ocean and Southern Europe or North Africa, Solar Impulse officials said. Landings will be made every few days to change pilots and to accommodate outreach events with participating governments and schools.
The Solar Impulse initiative is designed to raise awareness about and demonstrate the potential of clean energy solutions.
"Solar Impulse is one example of what we can do when we believe that we can achieve the impossible, and this brings hope," Piccard said. "But part of this hope is about clean technologies — technologies that allow [us] to protect humankind."
Follow Denise Chow on Twitter @denisechow. Follow Live Science @livescience, Facebook & Google+. Original article on Live Science.
Stay up to date on the latest science news by signing up for our Essentials newsletter.
Denise Chow was the assistant managing editor at Live Science before moving to NBC News as a science reporter, where she focuses on general science and climate change. Before joining the Live Science team in 2013, she spent two years as a staff writer for Space.com, writing about rocket launches and covering NASA's final three space shuttle missions. A Canadian transplant, Denise has a bachelor's degree from the University of Toronto, and a master's degree in journalism from New York University.