Image: Joplin Tornado Destruction from 10,000 Ft.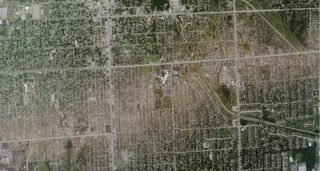 (Image credit: Aerial imagery courtesy of MJ Harden, a GeoEye Company.)
The monster tornado that smashed through Joplin, Mo., left a path of death and destruction in its wake, and a jagged scar across the Earth as it churned through the town of 50,000 on Sunday (May 22).
Less than 48 hours after the twister struck, on Tuesday morning (May 24), an aircraft traveling at 10,000 feet (3,000 meters) captured detailed images of the tornado's path through the town.
The massive Joplin tornado , three-quarters of a mile wide and packing winds in excess of 200 mph (320 kph) has been classified as an EF-5, the most intensely powerful class of tornado, and one that is rarely seen more than once if that during a typical tornado season, according to officials with the National Oceanic and Atmospheric Administration (NOAA). The Joplin tornado was the fourth EF-5 of 2011. [Related: The Tornado Damage Scale in Images ]
The colossal storm scraped grass and trees from the ground as it tore through the town, leaving a strip of bare earth in its path.
The death toll from the tornado now stands at 125. The Joplin tornado is the deadliest single twister to strike the United States since 1947, when a storm struck Woodward, Okla., killing 181 people.
So far, tornadoes have killed more than 500 people in 2011, and officials warn more severe weather is to come. May is historically the most active month for tornadoes.
Reach Andrea Mustain at amustain@techmedianetwork.com. Follow her on Twitter @AndreaMustain.
Stay up to date on the latest science news by signing up for our Essentials newsletter.
Andrea Mustain was a staff writer for Live Science from 2010 to 2012. She holds a B.S. degree from Northwestern University and an M.S. degree in broadcast journalism from Columbia University.