Joplin Tornado Whipped Up With Terrifying Speed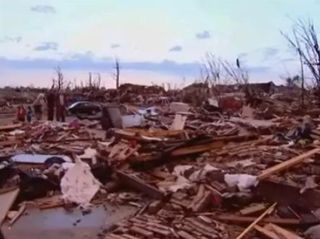 The deadly tornado that ripped through Joplin, Mo., Sunday evening, killing at least 89 people, intensified with unprecedented speed, according to storm trackers.
The supercell thunderstorm that produced the devastating twister formed over Kansas. The National Weather Service received its first report of the tornado at 5:34 p.m. local time, from west of the Missouri-Kansas border.
Seven minutes later, there were reports of a tornado within Joplin's city limits, about 7 miles (11 kilometers) east of the first sighting.
"Every storm is a little different, but this storm went from what was just a funnel cloud to a very strong, very large and very wide and obviously very damaging tornado in a very short time," in under 10 minutes, said Andy Boxell, a meteorologist with the National Weather Service in Springfield, Mo.
"It's something that I've not seen personally, and certainly it's a rare thing to see," Boxell told OurAmazingPlanet.
The first tornado warning that included the city of Joplin had been issued at 5:17 p.m. local time. [Related: Why Tornado Forecasting is Tough ]
"It sounds over the weather radio instantly and goes out to the world at that point," Boxell said. "As far as sirens go, that's a local decision."
Boxell said the tornado easily rated EF-3 on the Enhanced Fujita scale, meaning it had winds anywhere from 136 to 165 mph (218 to 266 kph).
"It may be higher than that; teams are on their way out right now to assess the damage and figure out how fast those wind speeds were," Boxell said.
He added that such monstrous tornadoes typically spend more time on the ground than this one did.
"It was only on the ground a short time, and it caused staggering injuries and fatalities," Boxell said. "It's heartbreaking and even more mind-boggling to realize it happened over a very short distance."
Officials will measure the swath of damage from edge to edge to determine the diameter of the tornado, since it's impossible to measure such things using radar and other meteorological tools.
The deadly storm adds to an already record-breaking year for severe weather in the United States.
While the South has born the brunt of tornadoes so far in 2011, that doesn't mean the Midwest and the Great Plains are out of harm's way.
"We tend to actually see things ramp up a bit across the Great Plains as we get into May and June," Boxell said, "so the final numbers have not been written yet."
Reach Andrea Mustain at amustain@techmedianetwork.com. Follow her on Twitter @AndreaMustain.
Stay up to date on the latest science news by signing up for our Essentials newsletter.
Andrea Mustain was a staff writer for Live Science from 2010 to 2012. She holds a B.S. degree from Northwestern University and an M.S. degree in broadcast journalism from Columbia University.