Future Disasters: 10 Lessons from Superstorm Sandy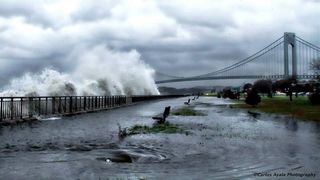 (Image credit: <a href="http://www.flickr.com/photos/68098900@N07/">caphotosnewyork</a>, via Flickr)
NEW YORK — For most in the New York City area, life has returned to normal since Superstorm Sandy wrought devastation last fall. Now, the city and other communities must attempt to glean lessons from the storm, as well as other disasters, and use them to plan for the future.
These disastrous natural events are not isolated anomalies; there's reason to expect more in the future. Natural records, such as those contained in sedimentary cores from lakebeds and in tree rings, indicate massive floods and droughts occurred in the distant past, when little human infrastructure existed in North America. And human-caused climate change is expected to exacerbate some extreme weather, causing, for example, heavy precipitation and heat waves.
A panel of experts gathered at the New York Academy of Sciences on Thursday (Jan. 24) evening to discuss how cities and other communities can better prepare for these disasters. Here are 10 lessons from Sandy the experts said cities should heed in preparing for future disasters, particularly those linked with climate change.
1. Beware sea level rise: The sea level in the New York City area has risen about a foot (0.3 meters) over the last century, said Radley Horton, a climate scientist at Columbia University. Sandy brought a record storm surge to the southern tip of Manhattan, and that surge received a boost from the increase in sea levels, Horton said. Because of these rising sea levels, "even weaker storms in the future can cause more devastating flooding," he said. [On the Ground: Hurricane Sandy in Images]
2. Skepticism of storm barriers: The devastation caused by Sandy's storm surge prompted discussion of installing a barrier system in the waters surrounding New York. But a barrier system, which uses a gate to let ships, fish and water in and out, wouldn't address the real problem — sea-level rise, said Klaus Jacob, a geophysicist at Columbia University who has studied the impact of climate change on coastal cities.
A short-term cost-benefit analysis does favor a storm barrier system, because the city could avoid improving its infrastructure. But a barrier would not provide a long-term solution and would allow the city to procrastinate in dealing with the inevitable, Jacob said.
3. Discuss retreat: People can adapt to the increasing threat of storms in different ways, Jacob said. They can seek protection through measures like storm barriers; they can accommodate the risk by, for example, elevating buildings to reduce flood risk; or they can move when risks become too high, a strategy called managed retreat, he said.
"I think that needs to be much more aired in the public, because it is obviously the hardest to do," Jacob said.
4. Consider ways to make retreat possible: Cities and communities in the United States need new tools to deal with situations in which it is unrealistic for people to stay in a particular place, said James Russell, architecture critic for Bloomberg News and author of "The Agile City: Building Well Being and Wealth in an Era of Climate Change" (Island Press, 2011).
For example, a legal tool called land re-adjustment has shown success in the Netherlands, where a portion of land lies below sea level. When a community is threatened, its land is re-allocated elsewhere and property lines redrawn, he said. [MD1] Tools used by the Nature Conservancy to protect land could also be helpful, Russell said. For instance, conservation easementslimit how land can be used, particularly by prohibiting development.
5. Re-envision the city: A version of New York City better adapted to the threat of hurricanes and storms would look different from today's city, Jacob said. The altered metropolis would have a "slightly smaller footprint, [and] we will have to change our density pattern accordingly," he said. "We will have more parks on the waterfront as buffers, and we will have to change our infrastructure radically." [Hurricanes from Above: See Nature's Biggest Storms]
Changes to infrastructure could include modifying the electrical grid, emptying out the lower basements of skyscrapers and using them for parking, and halting vulnerable development, such as housing, along the waterfront, Jacob said.
6. Think natural: As a result of development over the centuries, New York City and its surrounding area have lost wetlands and oyster reefs, natural features that once protected the coast from storms, said Nicole Maher, the senior coast scientist with The Nature Conservancy on Long Island. Restoring these features could help make the coast more resilient, by, for example, reducing wave velocity and erosion. Wetlands and oyster reefs also provide other benefits, such as the removal of contaminants from the water, Maher said.
7. Reconsider costs: On average, every $1 spent to make infrastructure more resilient against pounding storms saves $4 in costs later on, but human nature tends not to acknowledge this math, Jacob said.
8. Don't fight the last war: After a disaster like Sandy, the natural tendency is to discuss how to protect our shoreline, "but other things are going to matter," said Robert McDonald, senior scientist for sustainable land-use with The Nature Conservancy. McDonald pointed out that heat wavesand disease are also major threats associated with climate change.
9. Keep uncertainty in mind: By allowing greenhouse gas emissions to accumulate in the atmosphere, humans are conducting a giant experiment with the planet, McDonald said. "Yes, there are a lot of fancy models," that is, computer models used to project future climate. "But there will be huge surprises and things cities have to adapt to that we cannot predict."
10. Disasters bring equity issues: In response to audience questions, moderator Andrew Revkin, of The New York Times, pointed out that both poor and rich neighborhoods are exposed to risks associated with extreme events and climate change, because of where they are located. Sandy, for instance, inundated wealthy lower Manhattan as well as the Rockaways in Queens, the site of public housing projects.
As a result, it is important to avoid pitting these interests against one another in battles for resources needed to adapt, since poorer neighborhoods have less political clout, McDonald noted. He also pointed out that while cities in the developed world, such as New York, have the resources to make changes, others in the developing world, such as in Bangladesh, do not.
Follow LiveScience on Twitter @livescience. We're also on Facebook & Google+.
Stay up to date on the latest science news by signing up for our Essentials newsletter.
Wynne was a reporter at The Stamford Advocate. She has interned at Discover magazine and has freelanced for The New York Times and Scientific American's web site. She has a masters in journalism from Columbia University and a bachelor's degree in biology from the University of Utah.