Taste of Autumn Coming for Central, Eastern U.S.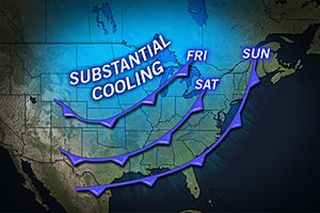 (Image credit: AccuWeather.com)
This article was provided by AccuWeather.com.
A major shift in the weather pattern will drive a blast of cool air southeastward from Canada across the Plains, Midwest, East and South into the weekend.
The blast of air from the Canada Prairies will drive temperatures and humidity levels down all the way to Texas and eventually much of the Atlantic Seaboard.
Temperatures may struggle to top 70 around Chicago both days of the weekend.
As the cooler air blasts across the warm waters of the Great Lakes, waterspouts are likely to spin up this weekend.
In Texas, the 100-degree heat from much of this summer will be replaced by highs in the 80s with much lower humidity in such cities as Dallas, San Angelo and Houston.
In the central and northern Appalachians, in the wake of the front which marks the leading edge of cooler air, the coolest spots could have highs near 60 on Sunday.
In the Deep South, for the folks who have been enduring tropical heat and humidity this week while cleaning up after Isaac, highs in the 80s with low humidity and sunshine will settle in later this weekend into next week.
While the magnitude of cooling will be less pronounced in much of the East's I-95 corridor, humidity levels will be shaved substantially and highs will be in the 70s by early next week from Boston to New York City and Washington, D.C.
The blast of cooler air and refreshing humidity will be preceded by rounds of showers and thunderstorms, which can lead to flash flooding and localized severe weather.
The downpours and severe weather will hit portions of the Midwest Friday then the Deep South and Atlantic coast into the weekend.
In addition, folks in portions of Florida may have to deal with a weak tropical system, such as a tropical depression or tropical storm and its torrential downpours this weekend. The feature could come about of a cluster of thunderstorms over the northern Gulf of Mexico, which are part of the old remains of Isaac.
As cooler air drives into the eastern U.S. this weekend, a compensating northerly flow over the Atlantic Ocean may help drive Hurricane Leslie into Atlantic Canada early next week.
© AccuWeather.com. All rights reserved. More from AccuWeather.com.
The only sure thing about weather forecasts is that they're wildly different all over the planet. Test your knowledge on the wild ranges in temperature, precipitation and more.
Extreme Weather Facts: Quiz Yourself
Stay up to date on the latest science news by signing up for our Essentials newsletter.