'Ridiculously Automated' Dorm Room Draws Official School Inquiry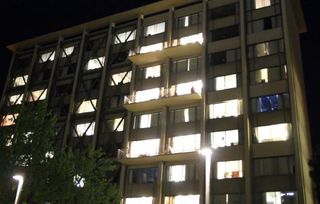 (Image credit: Derek Low)
Derek Low is just your ordinary college freshman who turned his Berkeley dorm room into a futuristic smart home with automatic window shades, voice-activated lights and preset college scenarios such "emergency party button." His video demo of the room has stirred up a frenzy of online media attention ? and earned him a notice from resident hall officials to appear at a judicial hearing.
Low began imagining his "Berkeley Ridiculously Automated Dorm" (BRAD) after stumbling across a similar idea online several years ago. Putting his plan into action required some tolerant roommates, a few weeks of patience and about $200 to $300 worth of off-the-shelf equipment. Once finished, he posted the project's details and a video showing the spectacular results online.
"Most of BRAD was simply easy and straightforward, as long as you're resourceful," Low said. "It took me the most time to get the voice recognition to work, and implement a setup for automating the curtains."
This represents just the latest wild idea for the Singaporean-born Low, who began working on such projects at the age of 16 and envisions creating his own high-tech startup someday. He tinkered with everything from a computer submerged in oil to a DIY flamethrower ? an inventive spirit encouraged by both teachers and parents.
"I do have the most supportive parents in the world, but sometimes they do knock some sense into me when I go overboard with these experiments and projects (which can be very, very costly)," Low told InnovationNewsDaily.
The new BRAD video shows Low controlling his dorm room curtain and lights with a wireless remote, apps on his iPhone and iPad, and even voice recognition through his MacBook Air laptop. Low can also simply speak to activate lighting-curtain scenarios such as "sleep mode" and "homework mode," although the tongue-in-cheek demonstration of "romantic mode" (a mode that dims the lights, cues a softly lit disco ball and plays Elton John's "Can You Feel the Love Tonight") may raise eyebrows among prospective dates.
BRAD's morning alarm combines many of the same features by turning on all the lights, drawing back the curtain and blasting Justin Bieber's "Baby" from music speakers ("There's simply no way you can sleep through that without your ears bleeding," Low wrote on his website).
All those scenarios pale before the emergency party button ? a true crowd-pleaser that activates music, a strobe light, laser light and UV light for an impromptu dance party.
But apparently not everyone in the dorm is psyched about the automated dorm room's peek into the future of smart homes ? or perhaps college officials just decided to take a closer look at whether Low's renovations have crossed the line for Berkley's housing policies. Low mentioned his notice to appear at a student judicial hearing when InnovationNewsDaily reached out to him.
Still, Low already has a solution that's likely to leave everyone happy.
"I'm moving out the dorms in two weeks and moving the entire setup to my own apartment," Low said. "The whole system is quite mobile, actually, so that won't be too difficult."
This story was provided by InnovationNewsDaily, a sister site to LiveScience. You can follow InnovationNewsDaily Senior Writer Jeremy Hsu on Twitter @ScienceHsu. Follow InnovationNewsDaily on Twitter @News_Innovation, or on Facebook.
Stay up to date on the latest science news by signing up for our Essentials newsletter.
Jeremy has written for publications such as Popular Science, Scientific American Mind and Reader's Digest Asia. He obtained his masters degree in science journalism from New York University, and completed his undergraduate education in the history and sociology of science at the University of Pennsylvania.