Eggshells Could Help Power Hydrogen Cars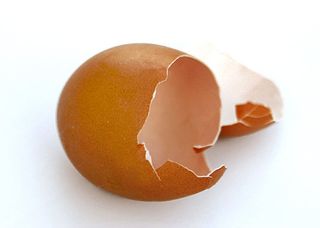 (Image credit: stock.xchng)
Eggs give many of us the fuel we need to start the day, but leftover eggshells of the future could provide fuel to start hydrogen cars.
The fragile leftovers can be ground up and used to filter out carbon dioxide, a pesky by-product of hydrogen production, engineers said.
"The key to making pure hydrogen is separating out the carbon dioxide," said L.S. Fan, a chemical and biomolecular engineer at Ohio State University.
Calcium carbonate—the main component in eggshells and antacid tablets—serves as the active ingredient in Fan and his team's process when heated up. The material soaks up acidic carbon dioxide gas during hydrogen-producing reactions, making them more efficient.
In fact, it's now the most effective carbon dioxide absorber ever tested, Fan said.
In spite of eggshell's efficiency, however, our breakfast leftovers aren't expected to convert the U.S. into a hydrogen economy any time soon—not even if we ground up all 91 billion of our eggshells from 2006 to help make the alternative fuel.
"Eggshell alone may not be adequate to produce hydrogen for the whole country," Fan said, "but at least we can use eggshell in a better way compared to dumping it as organic waste in landfills."
Fan and his team are also exploring ways to extract pure collagen from eggshell membranes, which make up about 10 percent of their weight. Collagen is used in medical, dental and cosmetics applications and can fetch up to $1,000 per gram (0.002 pounds).
Stay up to date on the latest science news by signing up for our Essentials newsletter.
Dave Mosher, currently the online director at Popular Science, writes about everything in the science and technology realm, including NASA's robotic spaceflight programs and wacky physics mysteries. He has written for several news outlets in addition to Live Science and Space.com, including: Wired.com, National Geographic News, Scientific American, Simons Foundation and Discover Magazine. When not crafting science-y sentences, Dave dabbles in photography, bikes New York City streets, wrestles with his dog and runs science experiments with his nieces and nephews.