How to Climb Mount Everest in 5 Not-So-Easy Steps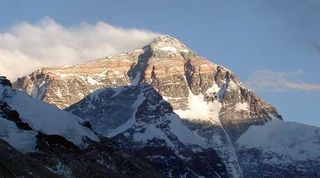 Whether you're crossing another of the world's highest peaks off your list or planning an expedition as part of a mid-life crisis, climbing Mount Everest is a major undertaking — one that requires oodles of preparation. We've got you covered, with five simple (relatively speaking) steps for getting ready to climb the world's tallest mountain.
Step 1. Bulk up
You need to get your body ready for the 29,035-foot climb to Everest's summit — really, really ready. Depending on your current level of fitness, think about starting a workout and hike-training regimen several months to three years before you depart.
To build muscle and cardiovascular strength (you'll need that as oxygen levels drop by nearly 70 percent from sea level) run, walk, bike, swim or hike for at least 45 minutes to an hour a day, four to six days a week. Carry a weighted pack to build endurance — you can start at five pounds and build until you're able to ascend 3,500 feet carrying 65 pounds in less than three hours.
Even seasoned climbers should enroll in a week-long training course to learn or review skills such as using oxygen tanks, dealing with rock falls and glacier conditions, navigating in white outs and, just in case things get really hairy, rescue techniques. If you go on a guided trek (recommended!) you may be required to have this course under your harness.
Step 2. Save up
Taking on Everest has cost hundreds of people their lives. Hopefully it'll just cost you several grand. Airline tickets to Kathmandu, Nepal, the most common departure point for treks, can cost thousands dollars of their own, especially during the spring climbing season. Other expenses, such as the $4,000 to $10,000 for a climbing permit, are rolled into the cost of a guided trip, which can run upwards of $70,000. This is all after shelling out a couple Gs for the training course, and then there's the gear (see step 4). [Breakdown: Why a Permit to Climb Mount Everest Costs $70,000]
Step 3. Sign up
There are a number of tour operators here and abroad that bring hundreds of intrepid trekkers to Everest each year. Alpine Ascents is one of the more expensive providers. Canadian Peak Freaks charges a modest $42,500. Their April 2012 trip is already filling fast.
Step 4. Stock up
Given the whole having-to-carry-your-bags-up-Mount-Everest thing, you might be inclined to pack light, but that's not really an option. All the more reason you might want to hire a commercial guide service with Sherpas to schlep your gear for you. Here's a non-exhaustive list of the things you'll need for the two-month trek:
Plastic, frost-proof clubbing boots
Thermal base layers (two sets)
Down pants and parka with a hood
Half a dozen pairs of socks
Bandanas, a face mask and balaclava, two wool or fleece hats, sun visor
Two pairs each of synthetic gloves and Gore-Tex mitts
Glacier glasses
Sleeping bag rated to -300 degrees Fahrenheit
Backpack and day pack
Harness
Jumar (a.k.a., ascender)
Ice ax
Crampons
Headlamp
Carabiners
Rappel device
Ski poles
Altimeter
Crampons
Oxygen canisters (five to seven — may be provided by a guide)
Food (another good reason to go with a guide; your body may burn 6,000 calories a day)
You can download a full checklist from Alpine Ascents.
Step 5. Finally, climb up
A Nepalese departure will send you along the southern route to the summit. Getting to Everest Base Camp, where the trek ostensibly starts, is itself a 10-day, 17,000-plus-foot affair. From there, you'll climb to Camp 1, atop the glacial Khumbu Icefall at 19,500 feet. It'll be 1,500 feet or more on a gradual slope to Camp 2, and 2,000 between that and the third camp, situated at the head of the Lhotse face. Above this, you'll need those oxygen tanks on the mixed snow and rock path to Camp 4, at 26,300 feet, in what's known as the "death zone." A day's rest, then onwards along the South East Ridge to the South Summit and the Hillary Step. And in the morning, the final summit attempt.
Then you just need to get yourself back down. Good luck!
This story was provided by Life's Little Mysteries, a sister site to LiveScience. Follow Life's Little Mysteries on Twitter @llmysteries, then join us on Facebook.
Stay up to date on the latest science news by signing up for our Essentials newsletter.