One of 34 Remaining Rare Leopards Killed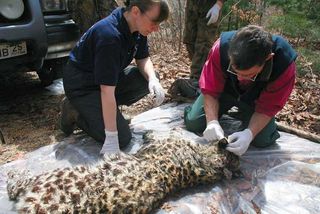 (Image credit: World Wildlife Fund)
The most optimistic figures from a recent census of the world's most endangered cat—the Amur or Far Eastern leopard—put the total count for those remaining in the wild at nine males, seven females without cubs, four females with cubs, six cubs in all and eight undefined tracks.
That's 34 of these large predators that need nearly 200 square miles of forest land to survive, according to a World Wildlife Fund report last week.
Subtract one, came the update today.
The number must be revised because a female Amur leopard (Panthera pardus orientalis) was found killed on April 20, said Darron Collins of the WWF.
The killing of even one female is a huge loss for a cat on the brink of extinction, he said. "Now we've lost a mature, reproductive leopardess and her potential cubs in a senseless killing. This is the third leopard killed within this area over the last five years."
Anonymous tips led officials to the dead 77-pound mature leopard, shot in the back about two miles from Bamburovo village near Vladivostok, Russia. After being struck by the bullet, the animal was beaten to death. The reason remains unclear.
Encroaching civilization, new roads, poaching, foresting and climate change have contributed to the leopards' plight, said Pavel Fomenko, biodiversity conservation program coordinator at the Far-Eastern branch of WWF in Russia.
"From my perspective, the leopards' exact number is not the big question," he said in a statement prepared for the initial census report last week. "What is really important is that the predator is on the brink of extinction. And still a unified protected area with national park status has not been established, which is the most important thing for the leopards' survival."
For long-term survival, at least 100 animals are needed, he said.
New Leopard Species Found in Borneo
Stay up to date on the latest science news by signing up for our Essentials newsletter.
Robin Lloyd was a senior editor at Space.com and Live Science from 2007 to 2009. She holds a B.A. degree in sociology from Smith College and a Ph.D. and M.A. degree in sociology from the University of California at Santa Barbara. She is currently a freelance science writer based in New York City and a contributing editor at Scientific American, as well as an adjunct professor at New York University's Science, Health and Environmental Reporting Program.