Middle-Age Obesity Increases Dementia Risk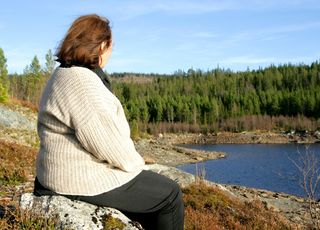 (Image credit: Dreamstime)
Being overweight in middle age increases the risk of eventually developing a form of dementia, according to a new study.
People who are overweight in middle age are 71 percent more likely than people with a healthy body mass index to develop dementia, Alzheimer's disease or vascular dementia later in life, said study researcher Dr. Weili Xu, of the Aging Research Center at the Karolinska Institute in Sweden. Body mass index, or BMI, is a measure taking both height and weight into account.
The risk is even higher for people who are obese in middle age— these extremely overweight people are 400 percent more likely than people of healthy weight to develop dementia, Xu said.
"Although the effect of midlife overweight on dementia is not as substantial as that of obesity, its impact on public health and clinical practice is significant due to the high prevalence of overweight adults worldwide," Xu told MyHealthNewsDaily.
The study will be published May 3 in the journal Neurology.
Evaluating dementia risk
Using the Swedish Twin Registry, Xu and his colleagues looked at health data from 8,534 twins age 65 and older. Of those people, 350 had a diagnosis of dementia (including two-thirds, or 232 of that group, with Alzheimer's disease) and 114 others had possible dementia. (They showed symptoms of dementia, but not enough to merit a full diagnosis.) Their height and weight had also been recorded 30 years earlier, the study noted.
Researchers grouped the participants by whether they were considered underweight, normal weight, overweight or obese, based on their BMI in middle age. (Overweight is defined as having a BMI between 25 and 30, and obese is defined as having a BMI higher than 30.)
Combined, overweight and obesity in middle age increased dementia risk by 80 percent, researchers found. Even after taking into consideration factors like education, vascular disease and diabetes, the results held true, Xu said.
Researchers found that of the group who did not develop dementia, 26 percent had been overweight in middle age. Of those who developed symptoms but did not receive a diagnosis of dementia, 36 percent had been overweight. Of those who were diagnosed with dementia, 39 percent had been overweight.
Behind the relationship
While Xu found the results surprising, especially when looked independently of outside factors, body fat is known to influence the brain's health, he said. For example, higher body fat is associated with diabetes and blood vessel (vascular) diseases, which are related to dementia risk.
Also, higher body fat during middle age could indicate metabolic syndrome, a combination of medical disorders like low levels of good (HDL) cholesterol, a large waistline, and high blood pressure, which is also linked with dementia risk, Xu said.
However, being overweight at some point during middle life doesn't doom a person to a future of dementia, he said.
"Evidence from other studies has shown that dementia risk can be reduced by midlife weight loss," Xu said.
Next, Xu said, he and his colleagues hope to investigate whether physical activities can counteract the risk of dementia due to body fat and diabetes.
Pass it on: Being overweight or obese in middle age increases the risk of developing dementia later in life.
This story was provided by MyHealthNewsDaily, a sister site to LiveScience.
Stay up to date on the latest science news by signing up for our Essentials newsletter.
Amanda Chan was a staff writer for Live Science Health. She holds a bachelor's degree in journalism and mass communication from the Walter Cronkite School of Journalism and Mass Communication at Arizona State University, and a master's degree in journalism from Columbia University.