Moderate Exercise Reverses Couch-Potato Effects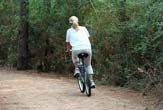 There's hope for the health of Al Bundy, the fictional couch potato who spent most of his television life on a sofa, if he were to start exercising today.
Physical inactivity can create loads of problems such as heart disease , diabetes , and obesity. But the effects can be reversed and even improved with matching amounts of moderate activity, a new study indicates.
The research grew out of an earlier study that investigated the consequences of a sedentary lifestyle on heart disease and diabetes.
Up and down
In the earlier study, 334 people were assigned into three different groups, one of which was a control group with 61 participants who didn't exercise.
"At the end of the trial, we were surprised to see that many markers of cardiovascular health declined in participants in the control group, who did not exercise," said Jennifer Robbins, an exercise physiologist at Duke.
Among the 17 markers measured: waist size, body mass index, physical fitness, and insulin sensitivity.
The researachers decided to see if the negative effects could be reversed if the participants spent the same amount of time in an exercise program, and 53 of the original 61 sedentary participants agreed to join a six-month exercise program.
At the end of the second phase, on average 13 of the 17 markers had either reverted to their original levels or had improved. Robbins explained some of the changes by email from Denver yesterday, where she was presenting the results of the study at the annual meeting of the American College of Sports Medicine:
Average weight gain over the six-month period of inactivity was 1.8 pounds; average weight loss during the exercise period was 3.4 pounds.
Average minimal waist gain in was 0.8 inches over the inactive period; average loss over the exercise period was 0.9 inches.
Total cholesterol fell during the exercise period by roughly the same amount that it had risen in the inactive period.
Low intensity
The study also confirmed other research that indicates a little bit seems to go a long way.
"When looking at the group as a whole, we found it wasn't the participants with the highest intensity of exercise who accounted for the combined beneficial effects," Robbins said. "That should be reassuring for people, to know they don't have to do a high-intensity workout to get these benefits of exercise."
The nearly 2-pound average weight gain of the sedentary participants during the first part of the study points to a long-term concern.
"At that rate, it can be assumed that this group of inactive people would gain 20 pounds in five years," Robbins said. "This means this population of sedentary people needed to exercise just to maintain their current weight. However, our earlier studies have shown that people who exercise can derive many of the cardiovascular risk benefits even in the absence of weight loss."
LiveScience's Robert Roy Britt contributed to this report.
Stay up to date on the latest science news by signing up for our Essentials newsletter.
Sara Goudarzi is a Brooklyn writer and poet and covers all that piques her curiosity, from cosmology to climate change to the intersection of art and science. Sara holds an M.A. from New York University, Arthur L. Carter Journalism Institute, and an M.S. from Rutgers University. She teaches writing at NYU and is at work on a first novel in which literature is garnished with science.