Telescope deals: save on telescopes from Celestron, Orion, Vaonis & more
We've searched the skies for the best telescope deals to get you stargazing for less.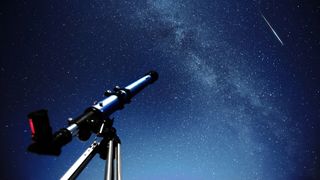 (Image credit: Roman Makhmutov via Getty)
Looking for great telescope deals but aren't sure where to start? If so, then you've come to the right place. We've rounded up all the best telescope deals from our favorite reliable retailers so you don't have to, saving you time and money so you can get stargazing much faster.
We've included telescopes for every budget and experience level, from beginners all the way up to advanced users, and some of these would even be suitable for kids, too, which would make a great gift this holiday season. If this is going to be your very first telescope, or you're looking to upgrade to a better one, check out our guide on the best telescopes to see which ones might be worth going for — you never know, they might just be on offer.
But how do you know which kind of telescope you want? There are many different types, and to a newbie, all the terminology can be very confusing. There are three main types of telescope: refractor, reflector and catadioptric.
Refractor telescopes are a great choice for beginners for their easy setup and wallet-friendly price and are better for looking at objects such as the moon and other planets.
Reflector telescopes are a good option for amateur astronomers who want to see distant galaxies and nebulas. Reflector telescopes can also be split up into two categories — Newtonian and Dobsonian, but we've kept them together in this guide to make things easier.
Catadioptric telescopes were created to fix many of the issues found in refractor and reflector scopes, like coma and chromatic aberration. These scopes do tend to be pricier, but worth it in our opinion. These can also be split into two different types; Maksutov-Cassegrain and Schmidt-Cassegrain.
We keep this telescope deals guide updated all year round, so if the telescope you have your eye on isn't on here, keep checking back as it may be on sale in the future.
Refractor telescopes
Reflector telescopes
Schmidt-Cassegrain telescopes
Maksutov-Cassegrain telescopes
Stay up to date on the latest science news by signing up for our Essentials newsletter.
Kimberley Lane is a landscape & seascape photographer living in South Wales. Originally using photography as a way to cope with health issues, she aims to portray a feeling of calm and peace through her images. Her work has been featured in a number of national photography magazines. She writes camera reviews and articles for Live Science and Space.com.