Add some science to your play with these science board games, all on offer during Prime Day
Save up to $35 on these science-based board games, learning as you play (or pretending to at least).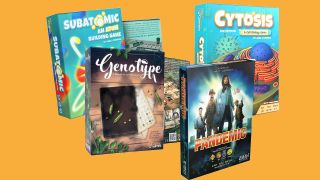 (Image credit: Amazon)
If you're looking for a way to keep friends and family busy, particularly in the school holidays, you can't go wrong with this selection of four board games, up to $35 off in Amazon's Prime Day sale.
Even better, since all these have a scientific bent, you'll come away having learnt something or, at least, pretending you have. They range from Pandemic ($14 off on Amazon), which sees you struggling to save the world from a virus, through to Genotype ($41.24 at Amazon) which has you recreating the discovery of genetics.
Play time varies by game, ranging from 40 to 90 minutes but you'll know in advance how much time you should set aside to get the most out of these science-themed board games.
If you're looking for board games to keep older children busy, then you should absolutely snap up these Prime Day deals. Pandemic is particularly topical and if players embrace it there are several expansions.
Genotype is the that's likely to take you the longest to play, with games running up to 90 minutes so you'll need a high degree of commitment from your players. But if they're regular board gamers that won't be a problem.
You can also check out our best board game deals for a range of non-Prime Day board gaming bargains.
Stay up to date on the latest science news by signing up for our Essentials newsletter.
Chris is a freelance journalist who, aside from covering games and gaming-related tech, has a taste for horror, sci-fi and the post-apocalyptic. As well as Live Science, you can find his work at Space.com, The Escapist, GameSpew (where he's the morning news writer) and more. You can follow him on Twitter @MarmaladeBus.