From the military conquests of Ancient Rome, to the high-speed dog fights of the Second World War, History of War (opens in new tab) magazine takes you through the stories, strategies, heroes and machines of armed conflict across the centuries.
In each issue, History of War brings you some of the most astounding and inspiring stories from conflicts from all eras of history. Inside you'll also find exclusive, in-depth interviews with war veterans, as well as expert analysis from some of the world's leading military historians.
Below you can get a FREE issue of History of War magazine. If you like what you read, why not take out a subscription today and save 33% this holiday period (opens in new tab)?

History of War magazine regularly features interviews with war veterans, passing on their unique memories and connecting you with their incredible first-hand experiences of combat. Each issue, the Operator's Handbook feature takes you inside the greatest military machines to grace the battlefield; plus our Great Battles feature recounts the most critical clashes from across the centuries.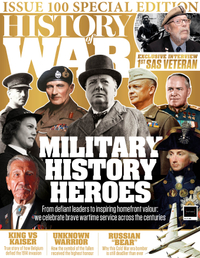 (opens in new tab)
OFFER: Save 50% on a History of War subscription
History of War has you covered no matter which period of military history you are passionate about — from the conquests of Ancient Rome to the battlefields of the Second World War. Take advantage of this fantastic half-price off for Cyber Monday 2021!