Looking for a new college computer but don't need a laptop? This desktop is a great choice that looks stylish, too.
While many in education will look to the best laptops for coding or, naturally, the best laptops for students, there's something to be said for the humble desktop PC – especially when it's one that looks great in a dorm room.
All-in-one PCs tend to be ideal for families and students because of their compact builds that mean you can hit the power button and get going without needing to plug much in at all. They can also help save space, which can be a big boon for those living in student accommodation but that isn't looking for a laptop (perhaps you're already using a tablet for lectures, or a laptop).
That means there's always room for a desktop PC, and this HP All-In-One is a space-saving dream - and it's down to just $699.99 at Amazon (opens in new tab).
That's a drop of almost 20% off the MSRP, and it includes everything you need to get working right out of the box.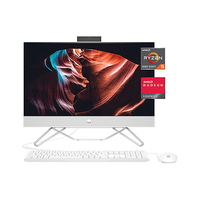 (opens in new tab)
HP All-In-One PC - Was $861.14, now $699.99 at Amazon (opens in new tab)
Save 20% on this stylish desktop PC with built-in speakers and a webcam, ideal for work.
The 23.8-inch display has a 1920x1080 resolution that looks so good you'll want to touch it - and you can, because it's a touchscreen, and takes advantage of Windows 11's nature as a touch-based UI.
Not only does it look great, but it has a 512GB SSD inside, alongside 12GB of RAM. That means it's great for file management, as well as multitasking. There's even enough power for some light gaming at the end of the day, with users noting it runs The Sims 4 with no issues.
Customer reviews are very positive, with an average rating of 4.7-stars out of 5 on Amazon's review tracker (opens in new tab). Many have praised the display, ease of setup, and the included keyboard and mouse combo which help you get working right away.