You Pay, Computer Prays For You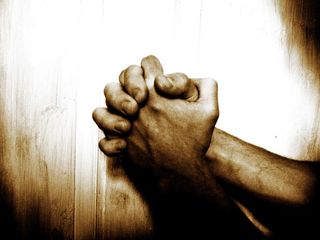 (Image credit: stock.xchng)
Information Age Prayer is a site that charges you a monthly fee to say prayers for you. A typical charge is $4.95 per month to say three prayers specified by you each day.
"We use state of the art text to speech synthesizers to voice each prayer at a volume and speed equivalent to typical person praying," the company states. "Each prayer is voiced individually, with the name of the subscriber displayed on screen."
Prices, however, are dictated by the length of the prayer. As noted in the Information Age Prayer FAQ, "A discounted prayer will cost less than other prayers of similar length."
I'm fascinated by the intersection between religion and technology, as are some well-known science fiction writers. For example, if a machine can say a prayer for you, why not have a fully robotic pope and clergy?
In his 1971 story Good News From The Vatican, writer Robert Silverberg tells the story of a robot cardinal who might one day become pope:
"Rabbi Mueller removes his sunglasses... 'I can tell you that his Eminency is tall and distinguished, with a fine voice and a gentle smile...'
'But he's mounted on wheels, isn't he?' Kenneth persists.
'On treads,' replies the rabbi, giving Kenneth a fiery, devastating look. 'Treads, like a tractor has. But I don't think treads are spiritually inferior to feet, or, for that matter, to wheels...'
'Every era gets the Pope it deserves,' Bishop Fitzpatrick observed somewhat gloomily today at breakfast. 'The proper Pope for our times is a robot, certainly...'"
In Roger Zelazny's Hugo award-winning 1967 novel Lord of Light, he describes a pray-o-mat:
"It was a machine, gleaming and metallic, before which they moved.
A man inserted a coin into the mouth of a steel tiger. The machine began to purr. He pressed buttons cast in the likenesses of animals and demons. There came then a flashing of lights along the lengths of the Nagas, the two holy serpents who twisted about the transparent face of the machine.
The man drew down upon the lever that grew from the side of the machine cast in the likeness of the tail of a fish.
A holy blue light filled the interior of the machine; the serpents pulsed redly; and there, in the midst of the light and a soft music that had begun to play a prayer wheel swung into view and began spinning at a furious pace.
The man wore a beatific expression."
I should also note that one of the manifestations of Number Six in the most recent incarnation of Battlestar Galactica is very religious. "Head-Six" (or "inner six") often tries to get Baltar to believe in the Cylon God and to accept his place in God's plan.
Fans of Douglas Adams might also recall the Electric Monk from Dirk Gently's Holistic Detective Agency:
"The Electric Monk was a labour-saving device, like a dishwasher or a video recorder... Electric Monks believed things for you, thus saving you what was becoming an increasingly onerous task, that of believing all the things the world expected you to believe."
Bow your head and click, that you might see these stories more clearly:
More News of Religion and Science
(This Science Fiction in the News story used with permission of Technovelgy.com)
Stay up to date on the latest science news by signing up for our Essentials newsletter.
Bill Christensen catalogues the inventions, technology and ideas of science fiction writers at his website, Technovelgy. He is a contributor to Live Science.