New Computer Model Predicts Rita's Path and Intensity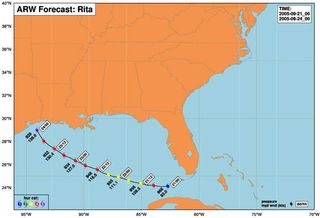 (Image credit: NCAR)
As Hurricane Rita takes aim on Texas, a new computer model is being tested to see if it can more accurately forecast the storm's movement and intensity.
Like the other half-dozen or so different computer models used by the National Hurricane Center, the new one relies on data from various sources. But the new model uses more data and therefore achieves higher resolution, scientists said Wednesday.
They caution, however, that the new model is in a test phase and should not be used to make evacuation decisions.
It generates a map and a curving line much like other prediction methods.
The program is run by the National Center for Atmospheric Research (NCAR). This and other agencies test new prediction models every few years, then pick those that work best and incorporate them into the suite of computer programs used to track future storms.
Weather forecasting models work on grids of data. Because of the limitations of computer processing power and data-collection ability, the data points are typically miles apart.
The new model, called ARW, works on a grid of data points about 2.5 miles (4 kilometers) apart, closer than other models in use. It can project the location of fine-scale rain bands and structures in the hurricane's central eyewall 48 hours into the future.
"ARW intensity predictions are very encouraging," says NCAR weather expert Chris Davis. "Five years ago, accurate intensity predictions weren't even possible."
ARW is the daughter of a program called WRF (Weather Research and Forecasting, and pronounced "worf") that is already in use for daily weather forecasting. ARW stand for Advanced Research WRF.
In a previous test, ARW captured in detail the collapse of Hurricane Katrina's eyewall at landfall and the shift of precipitation to the north side of the storm, Davis and colleagues say. The model's live predictions are displayed here.
A separate study earlier this year revealed that tracking ozone in a hurricane could also improve forecasts.
Deadliest, costliest, busiest months, worst states, plus this year's storm names and more.
The science of monster storms.
Stay up to date on the latest science news by signing up for our Essentials newsletter.
Robert is an independent health and science journalist and writer based in Phoenix, Arizona. He is a former editor-in-chief of Live Science with over 20 years of experience as a reporter and editor. He has worked on websites such as Space.com and Tom's Guide, and is a contributor on Medium, covering how we age and how to optimize the mind and body through time. He has a journalism degree from Humboldt State University in California.