Less Than Half of Americans Got Their Flu Shots Last Year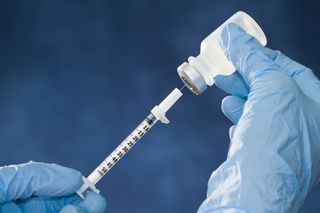 (Image credit: AZP Worldwide/Shutterstock)
Less than half of all Americans ages 6 months and up got their flu shots last year, leaving a majority of people unvaccinated against a potentially serious illness, according to the Centers for Disease Control and Prevention (CDC).
About 47 percent of Americans got a flu vaccine during the 2016-2017 flu season, Dr. Tom Price, secretary of the U.S. Department of Health and Human Services, said at a news conference today (Sept. 28). If that rate had been 5 percent higher, another 490,000 illnesses and 7,000 hospitalizations could've been avoided, according to CDC estimates, Price said. Rates of people getting their flu vaccine, however, have appeared to level off, he added.
Everyone ages 6 months and up needs a flu shot, Price said. [Flu Shot Facts & Side Effects (Updated for 2017-2018)]
Last year's flu season was "moderate," with hospitalization rates almost as high as those seen in the 2014-2015 flu season, Dr. Daniel Jernigan, director of the influenza division at the National Center for Immunization and Respiratory Diseases, said at the press conference. Almost 600,000 people were hospitalized last season due to the flu, he said.
Last season's vaccine was 42 percent effective, Price said. In general, the effectiveness of the vaccine ranges from 40 to 60 percent. That's "not perfect," Price said, but it does mean that a person's risk of getting sick with the flu and needing to see a doctor are 40 to 60 percent less if they get vaccinated than if they skip the flu shot. "Those are pretty good odds," he added.
In fact, last year's flu vaccine prevented an estimated 5.2 million cases of the flu, 2.7 million doctor's visits due to the flu and 86,000 hospitalizations, Price said.
Up to 166 million doses of the flu vaccine will be available this year, 20 million more than the previous year, Price said. This season, flu shots are recommended, but beyond that, there's no preference for which type of shot people choose, Price said. There are seven different types of flu vaccines available this year, according to the CDC, which vary based on ingredients and if they protect against three or four strains of the flu. As of last year, the nasal spray is no longer recommended.
Price said it's "remarkably easy" to get a flu shot, with thousands of places across the country offering the vaccine. In addition, the CDC has a "flu vaccine finder" tool on the agency's website, where people can enter their ZIP code and see where to go nearby, he said.
The CDC recommends that people get their flu shot by the end of October. [How to Protect Yourself from Cold and Flu in 2017]
Kids and older adults
The only age group that met — and in fact, exceeded — the target coverage-rates for flu vaccines was young children between ages 6 months to 23 months. More than 76 percent of these children got a flu vaccine, Patricia Stinchfield, a pediatric nurse practitioner and the senior director of infection prevention and control at Children's Minnesota, said at the press conference. The goal was 70 percent, she added.
Severe complications from the flu are most common in kids of this age group, Stinchfield said, but bad outcomes can happen to children of any age. Flu vaccine coverage decreases as kids get older, but it's just as important for kids of all ages to get their flu shots, Stinchfield said.
A recent study published in the journal Pediatrics highlighted the importance of the flu vaccine in kids. The study found that getting a flu vaccine reduces the risk of death from flu by 51 percent in children who have health problems, and by 65 percent in healthy children, Stinchfield said.
And researchers from Stinchfield's hospital looking back three years found that kids who got severely ill from the flu were 57 percent less likely to have gotten flu shots compared to kids who got less sick, she said.
About 85 percent of flu deaths in the U.S. occur in adults ages 65 and up, Dr. Kathleen Neuzil, director of the Center for Vaccine Development at the University of Maryland School of Medicine, said at the press conference. Neuzil noted that although vaccination rates among older adults have declined in previous years, the rates appeared to level off last year.
"This year, we want to see an increase" in flu vaccine rates among older adults, she said.
Originally published on Live Science.
Stay up to date on the latest science news by signing up for our Essentials newsletter.
Sara is a staff writer for Live Science, covering health. She grew up outside of Philadelphia and studied biology at Hamilton College in upstate New York. When she's not writing, she can be found at the library, checking out a big stack of books.