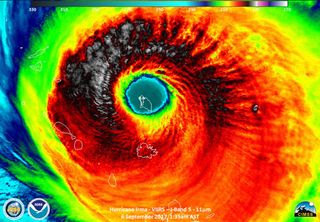 (Image credit: NOAA)
As the monster, Category 5 Hurricane Irma continues its march toward Florida, it's still not clear exactly what the impacts will be.
That's because so much now depends on tiny factors that could nudge Hurricane Irma a few miles here or there. While the odds are that it will hit Florida as a Category 4 hurricane, there's a chance that the storm could re-strengthen, or even weaken to a Category 3, scientists say.
And exactly where the storm hits in Florida, if it does hit the state, will make a huge difference in terms of damages, said Thomas Downs, a meteorologist with WeatherBell Analytics in New York City. [Hurricane Irma: Photos of a Monster Storm]
Warm waters, land obstacles
One of the most effective ways that a hurricane can weaken is if it passes over land. So, from the perspective of South Florida, the best scenario would have been if Cuba took some of the brunt of Hurricane Irma, Downs said.
Right now, however, Irma is interacting relatively little with Cuba and so is weakening only slightly, Downs said. There's some chance the storm will continue to weaken before it makes landfall on the U.S. mainland, likely somewhere in Florida. The latest projections from the National Hurricane Center predict that Irma will make that landfall as a Category 4 storm.
"There are some signs of it being a little bit stronger at landfall and being able to maintain that very strong intensity at landfall," Downs told Live Science. "Other signs show it could be weakened a little bit."
There's a remote chance that the storm would even strengthen again, as it passes over the 90-degree-Fahrenheit (32 degrees Celsius) water in the straits of Florida, between Cuba and Florida. However, there are also islands in the way that could put the brakes on the storm's heavy winds; in addition, because this is such a big storm, it's harder to slow down its winds, but also more difficult for those winds to speed up much, Downs said. [Hurricane Irma: Everything You Need to Know About This Monster Storm]
"Very hot water provides a lot of fuel, but there's still all these obstacles, and you almost need perfect conditions for it to develop into a monster storm like it was," Downs said.
Still, at this point, there remains some chance that Irma could make landfall as a Category 5 storm, or as a Category 3 storm, he added.
Uncertainty still
While many of the forecast tracks have Irma converging on South Florida, there's still quite a lot of uncertainty about the final impact, Downs said. That's because the eye of the hurricane is between 20 and 25 miles (32 to 40 kilometers) across, and around that core is a fringing ring of incredibly intense winds and rain called the eyewall. (In this case the most intense part of the eyewall is the northeastern quadrant.)
However, just a few miles out from the eyewall, the winds die down tremendously. For instance, the eyewall may have wind speeds of 150 mph (240 km/h), while just a few miles away, the winds may be at just 100 mph (160 km/h). And the damage of winds is related to the wind's power, which increases as the square of the wind speed. So, a wind speed that is twice as fast will have four times the damaging impacts, Downs said.
Beyond that, weather systems thousands of miles away may affect the trajectory in subtle ways. For instance, a high-pressure system coming down from Canada, the Dakotas and the Great Lakes could determine whether the storm turns west or takes a tighter turn toward the east, Downs said.
Some of the American hurricane models currently have the storm tracking slightly to the east of Florida, staying mostly offshore, but European models have the storm slamming right into South Florida, near Biscayne Bay, near where Hurricane Andrew made landfall 25 years ago.
That would be the worst-case scenario, Downs said.
"When the storm is moving from south to north, the worst part of the storm is the northeastern part of the storm," Downs said. "It's pushing all the water with the direction of movement, funneling everything in."
However, if the storm stays a little bit off the coast before making landfall, the less powerful side of the storm will hit land, he added.
Either way, impacts from the storm will be very different from those of Hurricane Harvey, which dumped dozens of inches of rain on the Houston area over several days. Unlike Harvey, Irma's biggest risks are its high winds and transient storm surges, not days and days of inundation while the storm system stays put, he said.
"The storm is going to keep moving," Downs said.
Originally published on Live Science.
Stay up to date on the latest science news by signing up for our Essentials newsletter.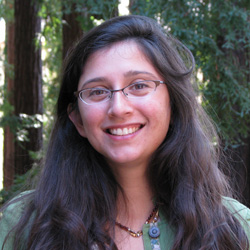 Tia is the managing editor and was previously a senior writer for Live Science. Her work has appeared in Scientific American, Wired.com and other outlets. She holds a master's degree in bioengineering from the University of Washington, a graduate certificate in science writing from UC Santa Cruz and a bachelor's degree in mechanical engineering from the University of Texas at Austin. Tia was part of a team at the Milwaukee Journal Sentinel that published the Empty Cradles series on preterm births, which won multiple awards, including the 2012 Casey Medal for Meritorious Journalism.