Rare Wildfires Burning in Greenland Seen from Space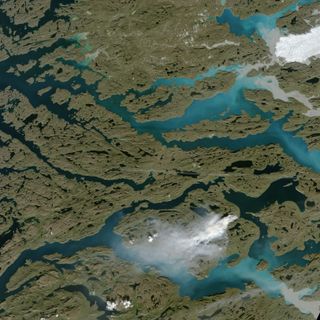 (Image credit: NASA Earth Observatory)
Trees are scarce in Greenland, which makes the island an unexpected site for the wildfires currently burning near the island's west coast.
First observed on July 31 by instruments aboard NASA satellites, wildfires continue to blaze in western Greenland, 85 miles (137 kilometers) from Greenland's second-largest city, Sisimiut. This image, published on Aug. 3 by NASA's Earth Observatory, depicts the billowing smoke over the island Nassuttooq.
"These fires appear to be peatland fires," said Jessica McCarty, an assistant professor of geography at Miami University, according to Wildfire Today, referring to a kind of wetland covered in a layer of decomposed plant matter. McCarty made this assessment based on the landscape — grasses, shrubs and rocks. In the Wildfire Today comments section, she noted that the slow advancement of the fires further supports this hypothesis. [In Photos: Greenland's Ancient Landscape]
As of Aug. 4, the blaze was estimated to have covered an area that is up to 5.8 square miles (15 square km), according to the Greenlandic Broadcasting Corporation KNR.
Unfortunately, not much is known about Greenland's history of wildfires.
"[T]here does not appear to be a reliable long-term record of observed wildfires in Greenland," according to a tweet by Polar Portal, a collection of three Danish research institutions that includes the Danish Meteorological Institute.
The record — composed of satellite images— only stretches back to 2000. What's more, many of these wildfires are characterized as low-confidence fires, which means there's a good chance that a hotspot or fire pixels on a satellite image, which is interpreted as a fire, might not actually be one.
What sparked the current fire remains unknown. While wildfires can be caused by lightning, in this case, lightning is an unlikely cause, according to McCarty, because the phenomenon is rare near the poles.
Original article on Live Science.
Stay up to date on the latest science news by signing up for our Essentials newsletter.
Sarah Puschmann is a staff writer for Live Science. She particularly enjoys writing about ecology and evolution and has degrees in creative writing and physics. Before joining Live Science, she taught English in Korea, Costa Rica, Argentina, Sweden, and Germany. Follow her on Twitter.