Santa's Reindeer Feel the Heat as Numbers Shrink Worldwide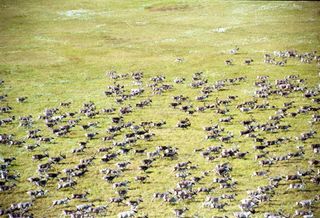 (Image credit: Leonid Kolpashchikov)
SAN FRANCISCO – Santa Claus better stock up on reindeer, because he may have trouble scrounging up replacements in the not-too-distant future, new research suggests.
Reindeer populations in northern Russia are falling, according to a new study. The new findings dovetail with other research showing that reindeer populations are falling in other parts of the Arctic as well.
But Santa's trusty steeds aren't the only iconic wintry beasts facing worldwide declines. Polar bear populations could decline by about one-third over the next 30 or 40 years based on sea ice estimates, another study found. [6 Surprising Facts About Reindeer]
And hotter, drier conditions in the western U.S. could mean steep reductions in mountain lion and mule deer populations.
Worldwide changes
For a while now, scientists have documented many changes in the Arctic that suggest trouble is brewing.
"The reindeer population in the world, and caribou, are declining pretty rapidly," study co-author Andrey Petrov, a geographer at the University of Northern Iowa, said here today (Dec. 12) at a news briefing at the annual American Geophysical Union Meeting. "We don't know why it's happening."
To get a better understanding of why, Petrov looked at reindeer populations in the Taimyr Peninsula in Far North Russia. The Taimyr reindeer population, at 600,000 animals, makes up 24 percent of the global reindeer population. The population peaked in 2000 at more than 1 million creatures, after the dismantling of the Soviet management system led to dramatic reductions in hunting. However, since then the population has been falling.
Petrov used satellite views of the region's vegetation, along with the vegetation and the corresponding presence of reindeer. The herds of reindeer are clearly visible in land satellite imagery, which allowed Petrov to map reindeer movement across the Arctic during the winter, their spring calving season and summer. He found that, overall, the reindeer have a strong tendency to return to the same places over and over again.
But there were some changes. Warming conditions meant that mosquitoes flourished at lower latitudes, so reindeer were venturing farther north during the summer season, possibly to avoid mosquito harassment, Petrov said. That meant they had a longer migration from their southern winter grounds.
Climate change also had other impacts, especially on the vulnerable young calves.
"Rivers that are historically frozen solid were melting earlier in the season," Petrov said at the briefing. "They have to swim across open rivers. That's one of the reasons we believe the population is declining."
Another study, presented Dec. 12 at the British Ecological Society meeting in Liverpool, England, found that adult reindeer living on Svalbard, a Norwegian archipelago located between Norway and the Arctic, are shrinking in size, likely due to climate change.
Polar bear plunge
Polar bear numbers will also likely fall in the next several decades, said Kristin Laidre, a principle scientist at the Polar Science Center at the Applied Physics Laboratory in Seattle. Laidre and her colleagues used satellite imagery to map sea ice in different regions of the Arctic over time.
Past studies have looked at individual populations, and in many areas, data is poor, with just a few years of population data rather than annual trends, making it hard to create a global prediction of polar bear trends. However, because polar bears require sea ice for hunting, declines in sea ice extent can be a strong predictor of animal population declines in the future, Laidre said.
Her team found that sea ice declines around the world lead to about a 70 percent chance that the polar bear population will drop from 26,000 bears to about 17,400 over the next 35 to 40 years.
Shrinking wild spaces
Changes in the climate will also affect the western desert area of the U.S., said David Stoner, a researcher with the Department of Wildland Resources at Utah State University.
Stoner used satellite imagery to map the vegetation changes from 2000 to 2014 in the western United States. He found that during the drought of 2002, the abundance of available vegetation that mule deer eat contracted to the mountainous regions, and less of the Mojave Desert and other dry regions had enough greenery to sustain the population.
At the same time, the actual abundance of mule deer dropped by about 20 percent, with the deer occupying a smaller area. Even though mountain lions don't eat grass (mule deer make up about 60 percent of their diet), the declines in vegetation also led to a dramatic drop in mountain lion populations as well, Stoner said.
"We were very surprised that the vegetation indices were very good predictors of mountain lion abundance as well, even though they exhibit only an indirect relationship with vegetation," Stoner said.
Paradoxically, the dwindling mountain lion population may mean more conflicts with humans. As fewer mule deer survive in the wild, they may venture out into the manicured greenery of human landscapes.
"Agriculture and urban landscapes are irrigated and fairly consistent. As conditions in native habitat diminish, it makes those human landscapes all the more attractive and appealing," Stoner said.
Mountain lions, meanwhile, may have to roam farther to find food, which also increases the risk of clashes with humans, he added.
Original article on Live Science.
Stay up to date on the latest science news by signing up for our Essentials newsletter.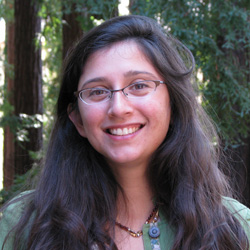 Tia is the managing editor and was previously a senior writer for Live Science. Her work has appeared in Scientific American, Wired.com and other outlets. She holds a master's degree in bioengineering from the University of Washington, a graduate certificate in science writing from UC Santa Cruz and a bachelor's degree in mechanical engineering from the University of Texas at Austin. Tia was part of a team at the Milwaukee Journal Sentinel that published the Empty Cradles series on preterm births, which won multiple awards, including the 2012 Casey Medal for Meritorious Journalism.