Birth Date May Influence Child's Risk for ADHD Diagnosis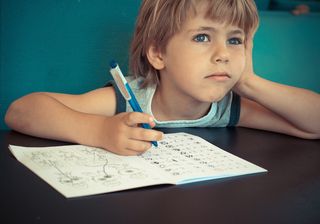 (Image credit: JonikFoto.pl/Shutterstock.com)
A child's birth date could play a role in determining which kids will be diagnosed with attention deficit hyperactivity disorder (ADHD) and subsequently put on medication to treat it, a new study from Taiwan suggests.
The researchers found that preschool and school-age children who were born in August had an increased risk of being diagnosed with ADHD and receiving medication for it compared to their classmates who were born in September. But this finding did not hold true in teenagers, according to the study, published today (March 10) in The Journal of Pediatrics.
Because the cutoff birth date for entering school in Taiwan is August 31, children born in August are typically the youngest in their grades, while children born in September are typically the oldest.
A child's age relative to his or her classmates in the same grade may have a significant impact on the diagnosis of ADHD and the prescription of ADHD medications, said Dr. Mu-Hong Chen, the study's lead author and a child and adolescent psychiatrist at Taipei Veterans General Hospital in Taiwan.
In the study, the researchers gathered information from a health insurance database of about 380,000 schoolchildren in Taiwan ages 4 to 17. They evaluated the prevalence of children diagnosed with ADHD by birth month, and took a look at those who were prescribed medication as treatment over a period of 14 school years.
Because of the cutoff dates in Taiwan, children within the same grade may be almost one year apart in age, Chen said. Students with birth dates just before the school cutoff date are much younger and less mature than their classmates born at other times of the year, particularly those born in the first month of the school year, he explained. [Typical Toddler Behavior, or ADHD? 10 Ways to Tell]
ADHD or immaturity?
Previous research on ADHD in the United States and Canada has suggested that age within a grade can make a difference in a child's risk of being diagnosed with and receiving medication for ADHD. The evidence from this new study in Taiwan showed findings that are similar to the results seen in Western countries, Chen told Live Science.
In the new study, preschool and school-age children born in August were 1.65 times more likely to be diagnosed with ADHD and 1.73 times more likely to be put on medication, compared to boys and girls born in September. Chen said that children with August birthdates are often the youngest in the grade, and they have less neurocognitive maturity than their classmates born in September.
Children whose brains are not yet as mature as other kids' in the same grade are more likely to have some inattention, impulsive and hyperactive symptoms that can affect their academic performance, Chen said. The students' behavior in class can make it more likely that they will be referred to a doctor for an evaluation, and this increases their risk of being diagnosed and treated for ADHD, he suggested.
Chen said he was not surprised that the study did not find that teenagers born in August were more likely to be diagnosed with ADHD than teens born in September.
Relative age within a grade may have more of an impact on younger children than on adolescents, because as age and maturity levels increase during the teenage years, the difference in neurocognitive development within a grade may decrease, he said.
These findings emphasize how important it is for doctors to consider the age of a child within a grade level when they are diagnosing and prescribing medication for ADHD, Chen said. Not doing so could lead to overdiagnosing ADHD and overprescribing medication, he said.
Parents should also keep in mind the possible role of their children's age within a grade when it comes to their academic performance and behavior in school, Chen said.
Follow Live Science @livescience, Facebook & Google+. Originally published on Live Science.
Stay up to date on the latest science news by signing up for our Essentials newsletter.
Cari Nierenberg has been writing about health and wellness topics for online news outlets and print publications for more than two decades. Her work has been published by Live Science, The Washington Post, WebMD, Scientific American, among others. She has a Bachelor of Science degree in nutrition from Cornell University and a Master of Science degree in Nutrition and Communication from Boston University.