More US Kids Are Being Diagnosed with ADHD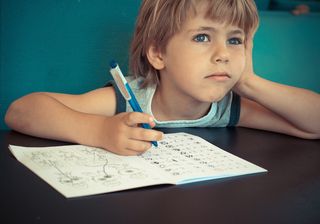 (Image credit: JonikFoto.pl/Shutterstock.com)
The number of children and teens in the U.S. who have been diagnosed with attention deficit hyperactivity disorder (ADHD) has increased significantly over the past decade, according to a new study.
Researchers found that the number of U.S. children diagnosed with the disorder has increased by 43 percent since 2003. The findings suggest that 5.8 million children ages 5 to 17 in the United States have ADHD.
"We found rising rates of ADHD overall, and very sharp jumps in certain subgroups," study author Sean D. Cleary, an associate professor of epidemiology and biostatistics at Milken Institute School of Public Health at The George Washington University, said in a statement. For example, the number of adolescents ages 15 to 17 who arediagnosed with ADHD has jumped by 52 percent since 2003, Cleary noted.
"Parents should be made aware of the findings in case they have a child or teenager that should be evaluated for the disorder, which can persist into adulthood," he said.
The study was not designed to examine why there has been an increase in the number of children with ADHD, Cleary said. While the increase shown in the study may reflect a true increase in the prevalence of the actual condition, it is also possible that it is a result of overdiagnosing ADHD, he said.
In the study, the researchers looked at information from a nationally representative survey that collected data on the health of about 190,000 U.S. children between 2003 and 2011. The researchers looked at a question in the survey that asked parents if doctors or other health care providers had told them that their children had ADHD. [5 Things to Know About ADHD Medication]
When the researchers looked at the numbers of children with ADHD by gender, they found that there was a greater increase in girls with ADHD, compared with boys, over the study period: Between 2003 and 2011, the rate of ADHD increased by 55 percent in girls and increased by 40 percent in boys.
This finding was unexpected, as "people traditionally see ADHD to be more common among males," Cleary told Live Science. The reasons for this increase may involve a greater awareness of the condition and its specific symptoms in girls among parents and doctors.
Some research has suggested that, in girls, ADHD may manifest itself through symptoms that are not traditionally thought of as symptoms of ADHD, he said. For example, some girls with the condition may have a greater tendency to be withdrawn, he said.
Kids with ADHD may have trouble paying attention in school or at home; they also may have a tendency to be impulsive, forgetful and more likely to make careless mistakes. If the condition is not treated, it may lead to difficulties at a child's school, at home and in social situations, according to the Centers for Disease Control and Prevention.
Moreover, having undiagnosed or untreated ADHD may lead to further problems as children with the condition grow into adults — for instance, when it comes to finding and keeping a job, Cleary said.
"Being diagnosed is important — that's the takeaway," he said.
The new study was published today (Dec. 8) in the Journal of Clinical Psychiatry.
Follow Agata Blaszczak-Boxe on Twitter. Follow Live Science @livescience, Facebook & Google+. Originally published on Live Science.
Stay up to date on the latest science news by signing up for our Essentials newsletter.