A Look at Alex: NASA Satellite Spies Oddball January Hurricane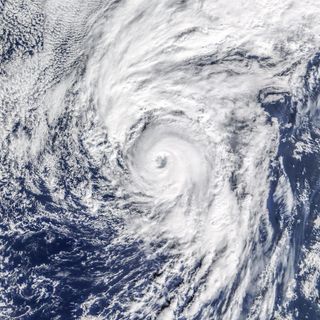 (Image credit: NASA Earth Observatory)
It's rare to see a hurricane in January, but Hurricane Alex formed yesterday (Jan. 14) in the Atlantic Ocean — well after the end of the hurricane season — and a NASA satellite caught a glimpse of the menacing storm.
It marks the first time a hurricane has formed in the Atlantic in the month of January since 1938, according to NASA's Earth Observatory.
NASA's Terra satellite spied the hurricane yesterday as it was developing. The dramatic photo shows the storm's eye becoming cloud-filled and bands of thunderstorms surrounding the center of the hurricane. Just 2 hours after the image was acquired, the storm was reported as having sustained winds of 85 mph (140 km/h). [Hurricanes from Above: See Photos of Nature's Biggest Storms]
Meteorologists use special terminology to classify developing tropical activity. A tropical depression, which is the first stage of a hurricane's formation, usually has maximum sustained winds below 39 mph (63 km/h). Tropical depressions form when thunderstorms accompany a low-pressure area, producing a circular wind flow.
But meteorologists usually don't start using the term tropical activity until the depression reaches the second stage: a tropical storm. This is when the circulation of wind becomes more organized and the maximum sustained winds are consistently at or above 39 mph, but no higher than 73 mph (117 km/h), according to the National Oceanic and Atmospheric Administration. The agency will then upgrade a tropical storm into Category 1 hurricane status if maximum sustained winds increase to between 74 mph and 95 mph (119 and 153 km/h).
Hurricane Alex began as a tropical storm on Wednesday (Jan. 13) and whirled up into a hurricane, according to the Earth Observatory.
Alex is rare because the Atlantic hurricane season officially lasts from June 1 to Nov. 30. Tropical storms usually form over warm waters — above 78.8 degrees Fahrenheit (26 degrees Celsius) — and not in the dead of winter, NASA said. But water temperatures in the northeast Atlantic were roughly 71.6 degrees F (22 degrees C) this week, which is slightly above normal, said NASA. As a result, Alex developed in a low-pressure area that formed about a week ago near Cuba, moving out to the central Atlantic. The storm then started to produce thunderstorm activity as it curved north to the Azores Islands off the coast of Portugal.
Hurricane Alex is also unusual because it is just the second storm on record to form so far north and east in the Atlantic, NASA said.
However, Alex did not maintain hurricane strength for long. Just a few hours after being declared, the winds weakened to 70 mph (113 km/h) as the storm's center made landfall on the Azores Islands this morning.
Since then, the Azores Meteorological Service has dropped all previous hurricane and tropical storm warnings. After passing the Azores, Alex is expected to move farther north, toward Greenland.
Follow Knvul Sheikh on Twitter @KnvulS. Follow Live Science @livescience, Facebook & Google+. Original article on Live Science.
Stay up to date on the latest science news by signing up for our Essentials newsletter.