Ice Age Camels Butchered in Colorado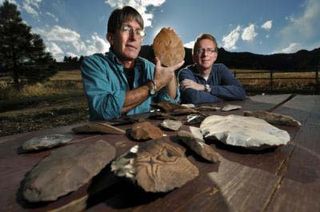 (Image credit: Photo by Glenn Asakawa, University of Colorado)
Stone tools found in Boulder, Colorado were used to butcher camels and horses 13,000 years ago, before the beasts became extinct in the region.
A new biochemical analysis of a rare Clovis-era stone tools was done at the University of Colorado at Boulder. It is the first study to identify protein residue from extinct camels on North American stone tools and only the second to identify horse protein residue on a Clovis-age tool, said CU-Boulder Anthropology Professor Douglas Bamforth, who led the work.
The Clovis culture is believed by many archaeologists to coincide with the time the first Americans arrived on the continent from Asia via the Bering Land Bridge, about 13,000 to 13,500 years ago, Bamforth said.
Other tools tested positive for sheep and bear protein residue.
Big American beasts
Dozens of species of North American mammals went extinct by the end of the Pleistocene, including American camels, American horses, woolly mammoth, saber-toothed cats, woolly rhinos and giant ground sloths. While some scientists speculate ice-age mammals disappeared as a result of overhunting, climate change or even catastrophic comet impact, the reasons are still unresolved, in Bamforth view.
The Mahaffy Cache, named for the owner of the property on which it was found, consists of 83 stone implements ranging from salad plate-sized, elegantly crafted bifacial knives and a unique tool resembling a double-bitted axe to small blades and flint scraps. Discovered in May 2008 by Brant Turney — head of a landscaping crew working on the Mahaffy property — the cache was unearthed with a shovel under about 18 inches of soil and was packed tightly into a hole about the size of a large shoebox. It appeared to have been untouched for thousands of years, Bamforth said.
The site appears to be on the edge of an ancient drainage that ran northeast from Boulder's foothills, said Bamforth. Climatic evidence indicates the Boulder area was cooler and wetter in the late Pleistocene and receding glaciers would have been prominent along the Front Range of Colorado, he said.
"The idea that these Clovis-age tools essentially fell out of someone's yard in Boulder is astonishing," he said. "But the evidence I've seen gives me no reason to believe the cache has been disturbed since the items were placed there for storage about 13,000 years ago."
All 83 artifacts were shipped to the anthropology Professor Robert Yohe of the Laboratory of Archaeological Science at California State, Bakersfield for protein residue tests that were funded by Mahaffy. The protein residue on the artifacts was tested against various animal anti-sera, a procedure similar to standard allergy tests and which can narrow positive reactions down to specific mammalian families, but not to genera or species.
"I was somewhat surprised to find mammal protein residues on these tools, in part because we initially suspected that the Mahaffy Cache might be ritualistic rather than a utilitarian," said anthropology Yohe said. "There are so few Clovis-age tool caches that have been discovered that we really don't know very much about them."
About the people
The artifacts were buried in a coarse, sandy sediment overlain by dark, clay-like soil and appear to have been cached on the edge of an ancient stream.
"It looks like someone gathered together some of their most spectacular tools and other ordinary scraps of potentially useful material and stuck them all into a small hole in the ground, fully expecting to come back at a later date and retrieve them," Bamforth said.
The type of people who buried the Mahaffy Cache "lived in small groups and forged relationships over large areas," Bamforth figures. "I'm skeptical that they wandered widely, and they may have been bound together by a larger human network." A single individual could have easily carried all of the Mahaffy Cache tools a significant distance, he said.
One of the tools, a stunning, oval-shaped bifacial knife that had been sharpened all the way around, is almost exactly the same shape, size and width of an obsidian knife found in a Clovis cache known as the Fenn Cache from south of Yellowstone National Park, said Bamforth. "Except for the raw material, they are almost identical," he said. "I wouldn't stake my reputation on it, but I could almost imagine the same person making both tools."
"There is a magic to these artifacts," said Mahaffy, the landowner. "One of the things you don't get from just looking at them is how incredible they feel in your hand --they are almost ergonomically perfect and you can feel how they were used. It is a wonderful connection to the people who shared this same land a long, long time ago."
Mahaffy said the artifacts will likely wind up in a museum except for a few of the smaller pieces, which will be reburied at the cache site.
Animal Science Videos
Mammoth News, Information and Images
Gallery: The World's Biggest Beasts
Stay up to date on the latest science news by signing up for our Essentials newsletter.
For the science geek in everyone, Live Science offers a fascinating window into the natural and technological world, delivering comprehensive and compelling news and analysis on everything from dinosaur discoveries, archaeological finds and amazing animals to health, innovation and wearable technology. We aim to empower and inspire our readers with the tools needed to understand the world and appreciate its everyday awe.