Childhood Allergies Could Signal Heart Disease Risk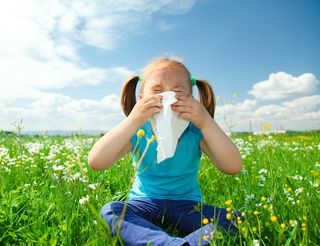 (Image credit: Serhiy Kobyakov/Shutterstock.com)
Children who have asthma, hay fever or eczema may also have more risk factors for heart disease at a young age, as compared to kids who don't have these allergy-related conditions, a new study suggests.
Researchers found that kids with such allergies had higher rates of being overweight or obese — risk factors for heart disease — than children who don't have these allergic conditions. The investigators also found that children and teens with asthma or hay fever were twice as likely to have high blood pressure or high cholesterol, which are also risk factors for heart disease, according to the study, published today (Dec. 8) in the Journal of Allergy & Clinical Immunology.
The findings suggest that allergic diseases can have harmful effects on other aspects of a child's health, said study author Dr. Jonathan Silverberg, an associate professor of dermatology at Northwestern University Feinberg School of Medicine in Chicago. Recognizing these harmful effects may help to prevent heart disease or treat it early, he said.
But although the study found an association between children with these common allergic conditions and an increased risk of cardiovascular disease, it did not demonstrate a cause-and-effect relationship between the two. It remains unclear whether treating allergy conditions might lower a child's risk for heart disease. [Got Allergies? Avoid These 7 Mistakes]
Reducing risk
In the study, the researchers analyzed data collected from about 13,000 children in the United States, whose parents answered questions about the children's health as part of the 2012 National Health Interview Study (NHIS).
From the data, the researchers estimated that 14 percent of American children have asthma. The scientists also estimated that about 17 percent of children have hay fever and 12 percent have eczema.
The new study isn't the first evidence of a link between common allergic conditions in children or adults and an increased risk of cardiovascular disease.
In a previous analysis, which Silverberg conducted and that was published earlier this year, adults in the United States with eczema were found to have more cardiovascular risk factors than those without the skin condition. The people with eczema also had higher rates of obesity, high blood pressure, high cholesterol and diabetes than did adults without eczema. However, that difference is explained in part because those with eczema having a greater likelihood of smoking and drinking alcohol, and of getting less exercise.
The connection between allergies and the heart
Exactly why kids who wheeze from asthma, sneeze from seasonal allergies or itch from eczema may have more risk factors for heart disease at earlier ages is not clear, the researchers said.
But several mechanisms could explain this link, the scientists said. It may be that the harmful effects of inflammation that occur in children with allergic disease also play a role in heart disease, Silverberg told Live Science. The link might also be related to the lower levels of physical activity and greater rate of obesity in children with asthma and allergic disease, he said.
The new study's strengths are in its large size and use of data obtained from interviewing parents throughout the country — it represents a nationwide sample, the researchers said. However, they also noted some limitations, including that it relied solely on parental reports of children's health and did not include specific information about the children's lifestyle habits, diet or the severity of their allergic diseases.
"Children and teens with severe allergic disease may benefit from increased screening for high blood pressure and cholesterol," Silverberg said. Modifying lifestyle habits, such getting kids to eat healthier and do more exercise, along with ensuring better treatments of children's allergic disease, might also reduce this increased cardiovascular risk, he said.
Follow Live Science @livescience, Facebook & Google+. Originally published on Live Science.
Stay up to date on the latest science news by signing up for our Essentials newsletter.
Cari Nierenberg has been writing about health and wellness topics for online news outlets and print publications for more than two decades. Her work has been published by Live Science, The Washington Post, WebMD, Scientific American, among others. She has a Bachelor of Science degree in nutrition from Cornell University and a Master of Science degree in Nutrition and Communication from Boston University.