290-Million-Year-Old Creature Could Sprout New Limbs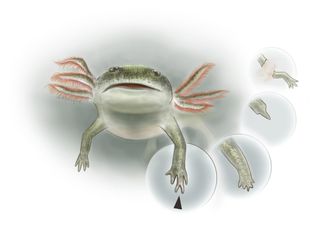 (Image credit: Kaliopi Monoyios)
If an ancient amphibian lost a limb or a tail, it could simply sprout a new one, according to researchers who found fossil evidence of limb regeneration dating back 290 million years.
The finding shows that some Carboniferous and Permian period animals had regenerative abilities a full 80 million years before salamanders, one of the few modern-day animal groups that can fully regenerate their limbs and tail, existed in the fossil record.
The fact that other tetrapods — a group comprised of four-legged vertebrates, including amphibians, reptiles, mammals and birds — had regenerative abilities suggests there are multiple ways to regrow limbs, said study lead researcher Nadia Fröbisch, a paleontologist at the Natural History Museum in Berlin. [Slithery, Slimy: Images of Legless Amphibians]
"Regenerative medicine is an active and very large research field," Fröbisch told Live Science. Most regenerative medicine is focused on the molecular mechanisms used by modern salamanders, but "we don't only have to look for things specific to salamanders, but also mechanisms present in all tetrapods," she said.
Fröbisch has studied limb regeneration in salamanders for years. She's not alone — at least 100 years ago, researchers noted that salamander limbs develop differently than those of all other tetrapods, and wondered if this helped explain their regenerative abilities.
When a typical tetrapod limb develops in an embryo, it grows its outer digit (the pinkie) first and inner digits in successive order. But salamanders do the opposite: They grow their inner digit (the thumb side) first and their pinkie last.
For decades, researchers thought that this odd developmental quirk evolved late in evolutionary history, Fröbisch said. However, recent examinations of fossils show that this pattern is older than previously thought, and existed before dinosaurs walked the Earth.
Fossil evidence shows that the salamander's "backward" digit development is found in various amphibians of the Carboniferous period (359 million to 299 million years ago), and the Permian (299 million to 251 million years ago), including the Apateon, Micromelerpeton and Sclerocephalus, Fröbisch said.
In addition to the backward digit development, a 290-million-year-old Micromelerpeton from a fossil lakebed in southwestern Germany shows evidence of limb regeneration. (Limb regeneration is possible to spot with a trained eye: Sometimes when a limb regrows, it's slightly deformed — containing fused fingers, for instance — indicating that it's not an original limb, Fröbisch said.)
But backward formation of the digits isn't necessary for limb regeneration, the researchers found. Microsaurs — amphibians that looked like lizards and lived about 300 million years ago — could regrow their tails, according to fossil evidence from the Czech Republic. But microsaurs developed digits the typical way — pinkie first.
"All together, the fossil data shows that [developing the thumb side first] in limb development and regeneration don't always occur together," Fröbisch said. "It's not salamander-specific at all. It's something very ancient." [Album: Bizarre Frogs, Lizards and Salamanders]
However, the salamander is the only surviving tetrapod that has kept its regenerative abilities. (Lungfish also have these abilities, but they're poorly studied and aren't tetrapods, Fröbisch said). Over time, the lineage leading to amniotes (reptiles, birds and mammals, including humans) lost the ability to regrow limbs, she said.
Genetic discovery
In a separate but related new study, researchers examined salamander genetics and found two genes necessary for its formation of backward digits.
"Some time ago, we found a gene called Prod1 that is specific to salamanders and is involved in limb regeneration," said study author Jeremy Brockes, a research professor of structural and molecular biology at University College London.
So, they knocked out Prod 1 in fertilized newt eggs with a gene-editing tool. As they observed the newts develop, they found that the protein Bmp2, critical for digit formation, was absent in these newts.
Without Prod 1 and Bmp2, the newt couldn't form its digits on the thumb side first. This indicates that both the gene and protein are necessary for the salamander's unique digit growth, Brockes told Live Science.
It's interesting that the other study finds that thumb-side first-limb growth is found in some, but not all, early tetrapod fossils from the Permian era about 290 million years ago, Brockes said.
"This is before the appearance of the salamanders," he said. "Our results suggest that these attributes, which are found together in present-day salamanders, may be linked by the involvement of common genes such as Prod 1."
The fossil analyses and genetic findings were published online yesterday (Oct. 26) in the journals Nature and Nature Communications, respectively.
Follow Laura Geggel on Twitter @LauraGeggel. Follow Live Science @livescience, Facebook & Google+. Original article on Live Science.
Stay up to date on the latest science news by signing up for our Essentials newsletter.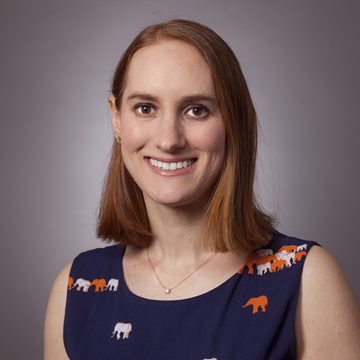 Laura is the archaeology and Life's Little Mysteries editor at Live Science. She also reports on general science, including paleontology. Her work has appeared in The New York Times, Scholastic, Popular Science and Spectrum, a site on autism research. She has won multiple awards from the Society of Professional Journalists and the Washington Newspaper Publishers Association for her reporting at a weekly newspaper near Seattle. Laura holds a bachelor's degree in English literature and psychology from Washington University in St. Louis and a master's degree in science writing from NYU.