What Are the Most Endangered Rivers in the US?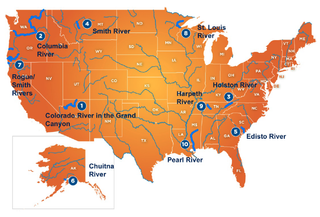 (Image credit: American Rivers)
For 6 million years, the Colorado River has gathered fresh snowmelt high in the Rocky Mountains and carried that water south for 1,450 miles (2,300 kilometers). It travels over falls and rapids, through deserts and canyons, all the while providing water to 35 million people and thousands of acres of farmland. But today the river is at risk.
The nonprofit organization American Rivers has deemed the Colorado River in the Grand Canyon the most endangered river in America in 2015. Every year, the organization highlights 10 rivers that face environmental threats and management decisions that could jeopardize their futures.
Although concerns have been raised about the health of the Colorado River over the past decade, new threats are reaching a tipping point, according to American Rivers. The Grand Canyon is threatened by a massive construction project, mining pollution and groundwater depletion — all of which will have drastic effects on the river that runs through it, the report found. [Images: Colorado River Connects with Sea]
The most extreme threat is perhaps the Grand Canyon Escalade, a proposed construction project that would cover 2 million square feet (186,000 square meters) of land. The complex would include a restaurant, gift shop, restrooms and even a cable car to carry 10,000 people each day to the canyon's bottom. With so many people crowding the canyon on a daily basis, many are concerned about noise, pollution and human waste.
In October 2014, a 20-year ban was placed on uranium mining in an area close to the Grand Canyon spanning nearly 1,560 square miles (4,040 square km). But uranium mines remain a threat and new proposals now exist to expand active mines and revive inactive ones. It's a loophole around the current ban and a threat to nearby river water, according to American Rivers.
A foreign investment company also wants to expand by 1,000 percent the small town of Tusayan, which lies just outside the Grand Canyon National Park's south entrance. The project includes adding a spa, dude ranch, hotels and more than 2,200 homes to the area. Such an expansion would only pull more water from the ground in a place already deeply affected by drought.
Not only do these three projects threaten the Colorado River, but they also threaten the Grand Canyon's wild space. "The Grand Canyon awes and inspires nearly five million visitors per year with its grandeur and expanse," researchers wrote in the report. The area is not only a sought-after destination, but it is also "considered a sacred landscape to more than 10 Native American tribes who have called the region home for millennia."
American Rivers highlighted nine other endangered rivers in its report. Threats range from dams that harm fish runs to ammunition and water treatment plants. At the top of the list are mines that degrade water quality in the regions surrounding them. Mines threaten rivers in Montana, Alaska, Oregon, California and Minnesota.
Here are US waterways that American Rivers judges to be the most endangered:
1. Colorado River in the Grand Canyon, Arizona
2. Columbia River, Washington and Oregon
3. Holston River, Tennessee
4. Smith River, Montana
5. Edisto River, South Carolina
6. Chuitna River, Alaska
7. Rogue-Smith Rivers, Oregon and California
8. St. Louis River, Minnesota
9. Harpeth River, Tennessee
10. Pearl River, Louisiana and Mississippi
The full report can be viewed online on the American Rivers website.
Follow Shannon Hall on Twitter @ShannonWHall. Follow Live Science @livescience, Facebook & Google+. Original article on Live Science.
Stay up to date on the latest science news by signing up for our Essentials newsletter.