Cold Comfort: Winter Was No Record-Breaker, NOAA Says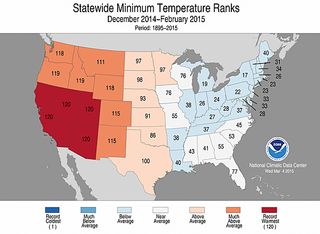 (Image credit: NOAA)
The bone-chilling cold weather that blasted the eastern United States this winter was miserable for some (and bliss for kids), but no record-breaker.
How cold was it? No state hit a new record — or even broke the top 10 — for the coldest season, thanks to the mild temperatures in December. But the frigid February of winter 2014-2015 did its best to drive down thermometers, with states east of the Mississippi River shivering through Arctic blasts. Thanks to the bitter cold, the average temperature in February for the contiguous 48 U.S. states was 33.1 degrees Fahrenheit (0.61 degrees Celsius), which is 0.7 degrees F (0.4 degrees C) below average, the National Oceanic and Atmospheric Administration (NOAA) said. And although no new cold records were set during February, nine states had their second-coldest February since record-keeping started in 1895, NOAA said.
"This was a very exceptional February," said Mike Halpert, deputy director of NOAA's Climate Prediction Center. "Given the gradual, slow warming of the planet, it is becoming harder to break cold records than it is to break warm records."
While the East Coast suffered, other parts of the country saw record warmth this winter. The cold air was centered directly over eastern North America, like a giant ice pack draped over the East Coast. Nearly all of the rest of the Northern Hemisphere was warmer than average during winter 2014-2015, according to NOAA.
For instance, surface temperatures across the United States continued to rise during the past three months. The average temperature for the lower 48 states during December, January and February was 34.3 F (1.3 C), which is 2.1 F (1.2 C) above the 20th-century average, according to NOAA. [Weirdo Weather: 7 Rare Meteorological Events]
The temperature rise took place because the East's brutal cold was offset by record warmth in the West. Arizona, California, Nevada, Utah and Washington each set new records for winter warmth this season. In California, the winter temperature was 1.5 F (0.8 C) above last year's record high, NOAA said. And five more western states, including Alaska, broke their top 10 records for winter warmth.
Officially, winter begins on the Dec. 21 solstice and ends March 20, the vernal (spring) equinox. But meteorologists consider the winter season to end in February, because the three coldest months of the year are December, January and February. NOAA will release its full winter 2014-2015 climate report on March 11.
Boston, export some snow
The East's punishing winter arrived with amazing amounts of snow. More than 5 feet (164 centimeters) of snow fell on Boston in February, a new record. In the Southeast, a late February storm dropped 8 inches (20 cm) of snow across several states, leaving thousands without power and tying up traffic for hours.
But most states were drier than average this winter, NOAA said. Only the Northeast coast, plus Arizona and New Mexico, saw above-average precipitation. (The southwestern states can thank weak El Niño conditions for their extra rain and snow, NOAA's Climate Prediction Center said yesterday.)
The record warmth in the West helped drive continued drought conditions in California, the Central Rockies and the Cascades. Higher temperatures increase evaporation rates and water demands, both factors that contribute to drought. [Dry and Dying: See Stark Images of Drought]
California's snowpack is trending toward record-low levels this year, the state's Department of Water Resources said Tuesday (March 3). The most recent survey found the statewide snowpack was about 19 percent of the average. California relies on winter snow to fill its reservoirs, and melting mountain snow provides water for plants and trees through the dry summer months.
Why so cold?
It's unclear why winter was so intense in the Northeast this year. The weather was a surprise even for forecasters. In October and November, NOAA had predicted a relatively warm and dry winter in the Northeast. However, the forecasters did hit their target for the West (hot and dry) and the Southeast (cold and wet).
Researchers are now looking at several possible causes for the Northeast's cold and snow, Halpert said. One factor could be the exceptionally warm water in the North Pacific Ocean, he said. "Those sea surface temperatures can influence [atmospheric] circulation patterns," Halpert told Live Science. The warmth may have pushed the jet stream into a position that sucked cold, Arctic air down toward the Northeast.
Follow Becky Oskin @beckyoskin. Follow Live Science @livescience, Facebook & Google+. Originally published on Live Science .
Stay up to date on the latest science news by signing up for our Essentials newsletter.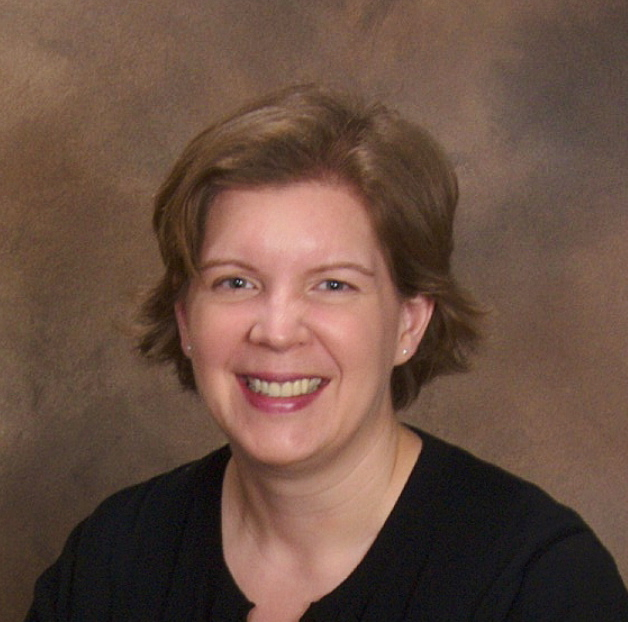 Becky Oskin covers Earth science, climate change and space, as well as general science topics. Becky was a science reporter at Live Science and The Pasadena Star-News; she has freelanced for New Scientist and the American Institute of Physics. She earned a master's degree in geology from Caltech, a bachelor's degree from Washington State University, and a graduate certificate in science writing from the University of California, Santa Cruz.