Fighter Jet Captures Towering 'Fire Clouds' Over California (Photos)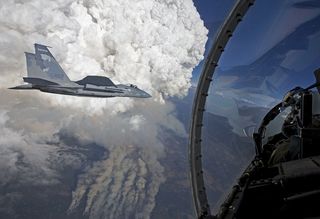 (Image credit: NASA Earth Observatory)
Giant, towering "fire clouds" billowing up from the wildfires currently ravaging California have been captured in stunning images snapped from fighter jets.
Almost 80 percent of California is deep in drought. Last year was the driest year in 119 years of record, and 2014 has brought little relief to the parched state. The dried-out vegetation covering California acted like kindling when lightning strikes earlier this month sparked more wildfires that have scorched more than 100,000 acres (400 square kilometers) across the state.
Wildfires fanned by high winds can create fire tornadoes, but wildfires can also create huge, towering plumes called pyrocumulus clouds (sometimes called "fire clouds"). An Oregon Air National Guard F-15C fighter jet snapped photos of some of these fire clouds on July 31, and NASA's Earth Observatory released the images today (Aug. 6). [See Photos of Some of the Weirdest Clouds]
Wildfires can often create fire clouds that rise high into the sky, propelled upward from the heat of the flames below. The fire clouds captured by the fighter jet rose from the Beaver Complex fire currently roasting the border between California and Oregon.
In satellite images, the fire clouds look like giant stalks of cauliflower with large, white puffs rising over darker smokestacks. Fire clouds are similar to regular cumulus clouds. Heat causes an air mass to rise into the atmosphere, where it collides with cooler air and the water vapor condenses into a cloud. However, the heat that creates regular cumulus clouds comes from the sun's reflected heat radiating from the Earth's surface, while the heat that creates fire clouds comes from open flames.
Fire clouds can be dangerous, as they can send smoke and pollutants into the upper atmosphere. The wind can pick up the pollutants and spread them across a wide area. The fire cloud over the Beaver Complex fire spouted a huge puff of smoke into the atmosphere, and winds pushed the smoke northeast over Oregon and sent it drifting toward Idaho and Montana.
In some cases, fire clouds can trigger thunderstorms that help put out wildfires. This happens when the pyrocumulus clouds develop into pyrocumulonimbus clouds. Cumulonimbus clouds are the source of all thunderstorms, and if fire clouds make the transformation, they can start huge downpours.
The wildfires are most severe in northern California, but the evacuation advisory has been lifted in Shasta County, an area to the southeast of the Beaver Complex fire, according to the Associated Press. Rain and a 6-mile-long (10 kilometers) fire line built by emergency responders have helped slow the flames. Cooler weather and scattered showers are helping to contain the blazes, but temperatures are expected to increase next week, ending the temporary relief.
Follow Kelly Dickerson on Twitter. Follow us @livescience, Facebook & Google+. Original article on Live Science.
Stay up to date on the latest science news by signing up for our Essentials newsletter.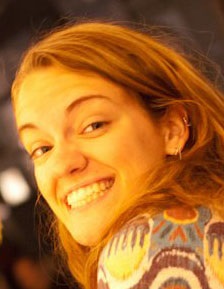 Kelly Dickerson is a staff writer for Live Science and Space.com. She regularly writes about physics, astronomy and environmental issues, as well as general science topics. Kelly is working on a Master of Arts degree at the City University of New York Graduate School of Journalism, and has a Bachelor of Science degree and Bachelor of Arts degree from Berry College. Kelly was a competitive swimmer for 13 years, and dabbles in skimboarding and long-distance running.