Too Little Sleep Increases Heart Disease Risk in Obese Adolescents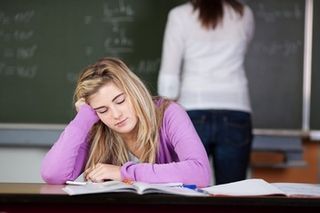 (Image credit: Teen photo via Shutterstock)
Obese adolescents who do not get enough sleep may be at an increased risk of heart disease and other health issues, compared with other obese teens who get more sleep, a new study suggests.
Researchers looked at the teens' risk factors for developing heart disease, diabetes and stroke, and found that the less sleep the adolescents got, the higher their "cardiometabolic risk score," which is a measure that combines the risk of developing these conditions into a single number.
"More sleep means less risk," said study author Heidi IglayReger, supervisor of the Physical Activity Laboratory at the Michigan Metabolomics and Obesity Center.
In the study, the researchers examined 37 obese teenagers, ages 11 to 17. The research team measured the participants' body mass index, waist circumference, blood pressure and blood sugar. They also gave each participant an accelerometer — a device used to measure people's physical activity and sleep patterns.
It turned out that only five of the teenagers in the study slept for at least 8.5 hours per night, which is the recommended minimum for this age group. The remaining kids slept about 7 hours per night.
"We know that obese adolescents, just because of the fact that they are obese, they are already at a higher risk for developing cardiovascular disease," IglayReger said.[10 Ways to Promote Kids' Healthy Eating Habits]
"We found that, even in a high-risk population [such as obese adolescents], the amount of sleep does seem to matter," she told Live Science.
The results of the study do not mean that insufficient sleep directly causes obesity, heart disease or diabetes, the researchers said.
"However, the strong association between sleep duration and cardiometabolic risk score independent of the effects of body composition and physical activity suggest a potential influence of sleep duration on cardiometabolic health in obese adolescents," IglayReger said in a statement.
In general, sleep issues appear to be a common problem among adolescents, the researchers said.
"Teenagers are notorious for not sleeping enough," because they often want to stay up later and sleep in later during the day, which is hardly possible due to their school schedules, IglayReger said.
Previous research has found an association between an insufficient amount of sleep and a higher risk of dying of heart disease in adults. Studies have also shown a link between an insufficient amount of sleep and an increased likelihood of obesity in teenage boys.
Follow Agata Blaszczak-Boxe on Twitter. Follow us @livescience, Facebook & Google+. Original article on Live Science.
Stay up to date on the latest science news by signing up for our Essentials newsletter.