Super Bowl Science: How Cold Weather Could Affect the Big Game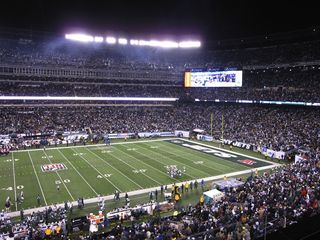 (Image credit: <a href="http://www.shutterstock.com/gallery-59234p1.html?cr=00&pl=edit-00">Christopher Penler</a> / <a href="http://www.shutterstock.com/?cr=00&pl=edit-00">Shutterstock.com</a>)
Football fans hoping for a snowy Super Bowl on Sunday (Feb. 2) may be out of luck, but temperatures for the Big Game could still dip to chilly lows, meaning players and spectators should take care to protect themselves from the wintry conditions, experts say.
While football games have been played in freezing-cold conditions before, Sunday's game between the Seattle Seahawks and Denver Broncos at MetLife Stadium in East Rutherford, N.J., will be the first-ever outdoor, cold-weather championship game. Despite early talk that a big storm could blow through the area, the Northeast Regional Climate Center at Cornell University, in Ithaca, N.Y., is predicting relatively calm conditions for the Sunday matchup, with a high near 39 degrees Fahrenheit (4 degrees Celsius) and a low near 28 F (minus 2 C).
"Despite all the hype, the latest Arctic outbreak looks to be gone by Super Bowl Sunday," Art DeGaetano, director of the Northeast Regional Climate Center, said in a statement. "It appears MetLife Stadium might be dusted with a bit of snow on Saturday night, but on Sunday, the sun should appear."
Still, the outdoor game could be a chilly experience, and athletes should be aware that cold weather could affect their performance, said John Hill, director of the Primary Care Sports Medicine Fellowship and a professor at the University of Colorado's School of Medicine in Aurora. [9 Tips for Exercising in Winter Weather]
"The most common thing you might notice when temperatures start dropping is that less blood flows to extremities, like your fingers, so you might be less coordinated, and it might be more difficult to throw or catch passes," Hill told Live Science.
Work it out
The human body performs best when its internal temperature is between 98.6 F and 104 F (37 to 40 C), he added. During exercise, the body's muscles need oxygen to produce energy, but if the body's temperature dips too low, this process can slow down dramatically. [The 7 Biggest Mysteries of the Human Body]
"Endurance goes down in the cold, because muscles can't oxygenate as well, so energy levels decrease," Hill said.
The way muscles contract and generate force is also impacted by cool conditions, said Delia Roberts, a professor of biology at Selkirk College in British Columbia, Canada, and a Fellow of the American College of Sports Medicine.
"Muscle tissues are like plastic — when they're warm, they're pliable, but when they're cold, they're very rigid," Roberts told Live Science. "If you took a regular functioning muscle and placed it in cold conditions, it wouldn't generate the same amount of force it normally can."
This could be particularly troublesome for players coming on the field after spending lengthy periods of time on the bench.
"If you haven't stayed warm, you can certainly pull a muscle," said Jack Groppel, co-founder of the Human Performance Institute and vice president of applied science and performance training at Wellness & Prevention Inc., a Johnson & Johnson company.
Teams often use portable heaters or full-body parkas to keep their players as warm as possible on the sidelines, but Groppel also recommends moving around occasionally, and making sure to get a good warm-up in before taking the field, to keep muscles and joints loose.
Cold-weather woes
Still, the game's organizers will have to keep track of more than just the players, Groppel said. If temperatures dip really low, the equipment could be affected as well.
"If it's extremely cold, air in the ball will constrict if they don't keep it warm," Groppel said.
To ensure players are not throwing or kicking something that feels like a brick, officials will likely switch out the football if it gets too cold, he said.
Players will also have to remember to hydrate properly throughout the game to avoid becoming dehydrated, Roberts said.
"We often think that hydration is only a problem in the heat, but these players will be working hard, and their protective gear will probably create a heat trap, so they'll likely be perspiring," she explained. "If they're losing a lot of fluids and they aren't drinking enough, they could get dehydrated."
Spectators should also prepare for the chilly conditions by wearing multiple layers of clothing and making sure as little skin as possible is exposed, Groppel said.
And while tailgaters are expected to be out in full force this weekend, doctors recommend minimizing alcohol intake to better manage the cold weather, and to avoid becoming dehydrated.
"If fans are drinking a lot of alcohol, they might not be as aware of the cold," Hill said. "Alcohol might make you feel warm on the inside, but it won't protect your fingers and toes."
Follow Denise Chow on Twitter @denisechow. Follow Live Science @livescience, Facebook & Google+. Original article on Live Science.
Stay up to date on the latest science news by signing up for our Essentials newsletter.
Denise Chow was the assistant managing editor at Live Science before moving to NBC News as a science reporter, where she focuses on general science and climate change. Before joining the Live Science team in 2013, she spent two years as a staff writer for Space.com, writing about rocket launches and covering NASA's final three space shuttle missions. A Canadian transplant, Denise has a bachelor's degree from the University of Toronto, and a master's degree in journalism from New York University.