Hellish Northridge Earthquake: Is Los Angeles Safer 20 Years Later?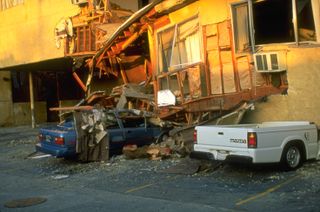 (Image credit: FEMA)
Roaring like a freight train from hell, the Northridge earthquake threw sleeping Angelenos from their beds at 4:31 a.m. on Jan. 17, 1994.
The earthquake's shaking was stronger than the force of gravity, lifting furniture off the floor and buildings off their foundations. Los Angeles firefighters watched their massive fire trucks hop across a station garage in time with the seismic waves.
At least 57 people died and nearly 9,000 people were injured. Some 82,000 buildings were damaged or destroyed. Seven freeway bridges collapsed. With more than $40 billion in property and economic losses, Northridge was one of the most expensive natural disasters in U.S. history.
California geologists say their big cities are overdue for another devastating earthquake. No major earthquake has hit one of the major urban areas since Northridge — and at a magnitude-6.7, it wasn't even the feared "Big One." Twenty years ago, no one knew the Northridge fault existed. Thanks to Northridge, the next one won't be such a surprise. The big question is: Are Californians ready?
Blind thrusts
The Northridge fault is a so-called blind thrust, a fault buried 11 miles (17 kilometers) deep in Earth's crust. Leaving no telltale signs on the surface, geologists had no idea the fault angled beneath the San Fernando Valley, veering northward from Reseda up toward Chatsworth. That angle saved much of Los Angeles 20 years ago, directing the earthquake's energy into the sparsely settled mountains north of the Valley.
The 1994 quake wasn't the first blind thrust to trigger a quake beneath L.A., but it was the most powerful. Northridge swung scientists' attention back toward mapping earthquake hazards directly underneath the Los Angeles area, instead of focusing on the sleeping giant next door, the San Andreas Fault.
"When Northridge occurred, people didn't appreciate these blind thrusts as seismic hazards," said James Dolan, an earthquake geologist at the University of Southern California in Los Angeles. "Northridge really swung the pendulum back [from the San Andreas] to trying to understand the urban fault system in much more detail," Dolan told LiveScience's OurAmazingPlanet. "Although we think these faults aren't going to generate a magnitude-8 earthquake on the scale of the San Andreas, they are literally underneath your feet."
In the past two decades, researchers have done their best to find every fault fracturing Southern California west of the San Andreas Fault. (The eastern part of the state still hides some mysteries, scientists think.) They've also gauged the history of past earthquakes on these faults, when possible, and studied how each fault influences others nearby.
The result looks like a CT scan of the Earth, in which faults are the bones, linked together in a complex framework.
The digital fault model now allows researchers to model how future earthquakes may damage different parts of Los Angeles — one of the vexing problems of the Northridge earthquake. [Video: Scary Scenario – Devasting Earthquake Visualized]
"We have a much clearer picture of what we're up against in terms of the seismic threat facing L.A.," Dolan said. "In some respects it's somewhat worse than what we thought 20 years ago, [because] we know that first of all there are big blind thrust faults underlying most of metropolitan L.A. and we know that at a number of occasions in the past these have ruptured to generate very large magnitude earthquakes."
Basin effects
Before the sun rose on Jan. 17, 1994, the San Fernando Valley looked like a scene from an apocalyptic disaster movie. Dust in the air glowed as more than 1,000 fires burned in the darkness of a city without power. But on the other side of the Santa Monica Mountains, the southern border of the Valley, the city of Santa Monica also suffered a surprising amount of damage. And some pockets in the Valley were left mostly untouched, while others were devastated.
The Northridge earthquake clearly showed how the different soils in an area, and the underlying geologic structures, can magnify an earthquake's strength. In Santa Monica, a lens-shaped fault beneath the mountains focused the seismic waves toward the city the way a magnifying glass can concentrate the sun's rays. In the Valley, the earthquake waves ping-ponged back and forth, bouncing off underground structures and occasionally meeting and intensifying. The strongest ground motion ever recorded in a California earthquake was in the city of Tarzana. The sedimentary layers under Tarzana focused and strengthened the shaking until it was nearly twice that of Earth's gravity.
Today, scientists can predict where such patchwork effects will take place, based on the source and size of an earthquake. For example, even though the towering San Gabriel mountain range separates the San Andreas Fault from Los Angeles, sedimentary basins on the southern side of the mountains, near the city, funnel earthquake energy into L.A.
"We've done a huge number of simulations that really show the importance of these sedimentary basin structures," said Tom Jordan, a seismologist and director of the Southern California Earthquake Center. "Energy can get focused into Los Angeles, so now we take that into account when delineating the [shaking] hazard," Jordan told LiveScience's OurAmazingPlanet.
Building safety
Perhaps the iconic image of the Northridge earthquake is a collapsed parking garage on the California State University, Northridge, campus, folded over on itself like a child's Play-Doh. Another contender is the soft-story apartment building (with parking spaces as the first, "soft" story) that pancaked and flattened cars. [Northridge Earthquake 20th Anniversary in Photos]
But the earthquake also highlighted how vulnerable welds can be in the beam joints of steel-frame structures. Engineers discovered widespread brittle fractures at welds in steel beams, which prompted changes to California's building codes and the way steel-beam buildings are constructed and designed. Thanks to Northridge, steel-frame buildings will perform better in the real Big One.
But despite seismic code upgrades, many buildings are still at risk in Los Angeles and other major cities, according to a study published this week (Jan. 14) in the journal Earthquake Spectra.
"We're not saying that every building constructed before 1994 is going to collapse in an earthquake," Tom Heaton, professor of geophysics and civil engineering at Caltech and a study co-author, said in a statement. "We're saying that buildings continue to be in use that pose a greater risk of physical injury and financial harm than is necessary."
The next big one
California's urban earthquake faults have been remarkably quiet for the past 20 years. During this time, scientists and emergency planners sought to prepare for the next earthquake disaster. The state runs an annual earthquake drill, the Great ShakeOut, and has installed the framework for an early earthquake warning system similar to Japan's.
Scientists have simulated a magnitude-7.8 earthquake on the southern San Andreas Fault, which they say is about 150 years overdue for a major temblor. A quake such as that would kill 1,800 people and injure 53,000 — relatively minor loss of life in a metropolis of millions, though still a major disaster in the United States.
The big concern is economic loss. California's seismic building code is meant to preserve life, not preserve buildings, and 50 percent of the Los Angeles's structures may be uninhabitable after a San Andreas temblor.
"If you get a large earthquake, we're probably expecting to see damage in many buildings, even in modern buildings," said James Wight, a structural engineer at the University of Michigan. "They are not designed to go damage-free," he told LiveScience's OurAmazingPlanet.
The city's old, brittle water pipes would break, along with its water supply lines from outside, such as the California Aqueduct. With no water for weeks or months, Los Angeles could suffer severe, long-lasting economic losses, similar to New Orleans after Hurricane Katrina, said Lucy Jones, a seismologist with the U.S. Geological Survey.
"At best, it will take us six months to get our water back," Jones told the Los Angeles City Council this week.
"What is at stake is really our whole urban society," Jones said. "Every death in an earthquake is horrible, but people are far more likely to die on our freeways. We are more worried about how society will function afterward."
Email Becky Oskin or follow her @beckyoskin. Follow us OurAmazingPlanet @OAPlanet, Facebook and Google+. Original article at LiveScience's OurAmazingPlanet.
Stay up to date on the latest science news by signing up for our Essentials newsletter.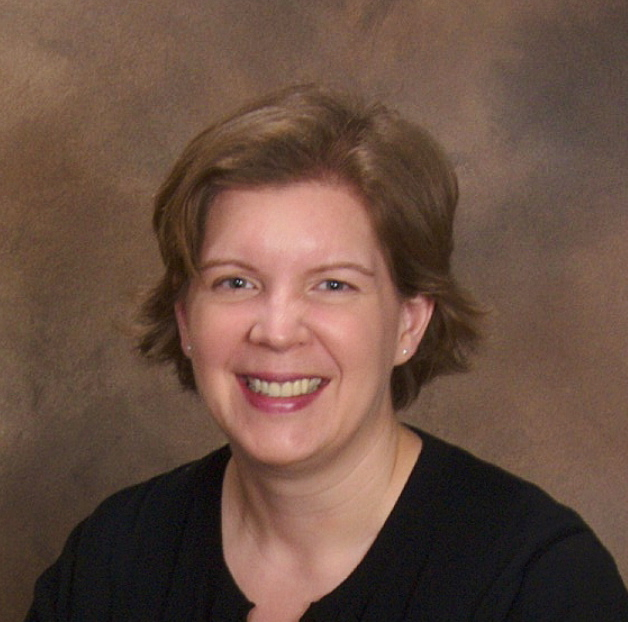 Becky Oskin covers Earth science, climate change and space, as well as general science topics. Becky was a science reporter at Live Science and The Pasadena Star-News; she has freelanced for New Scientist and the American Institute of Physics. She earned a master's degree in geology from Caltech, a bachelor's degree from Washington State University, and a graduate certificate in science writing from the University of California, Santa Cruz.