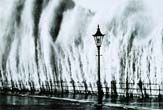 (Image credit: NOAA/NWS Historic Collection.)
Global warming could substantially raise sea levels around New York City over the next century and put the Big Apple at greater risk of being flooded by hurricane waves, a new computer model predicts.
Sea level around the city could jump 15 to 19 inches by 2050 and by more than three feet by 2080, according to the model.
"With sea levels at these higher levels, flooding by major storms would inundate many low-lying neighborhoods and shut down the entire metropolitan transportation system with much greater frequency," said study team member Vivien Gornitz of NASA's Goddard Institute for Space Studies and Columbia University in New York.
Hurricane risk
While rare, hurricanes have hit New York City before. The strongest was a Category 4 hurricane at its peak in the Caribbean, which made landfall at Jamaica Bay on Sept. 3, 1821 with a 13-foot storm surge that flooded much of lower Manhattan.
Also, the Category 3 "Great Hurricane of 1938" [image] tore through central Long Island and ripped into southern New England on Sept. 21, 1938. The storm, which killed at least 600 people, pushed a wall of water up to 35 feet high in front of it, sweeping away protective barrier dunes and buildings.
Officials have long warned that a similar storm striking Manhattan would be devastating today. Of particular concern: massive subway flooding.
Frightening future
If sea levels rise as predicted, New York City would face an increased risk of flooding by hurricane storm surge, the researchers say. Storm surge is an above normal rise in sea level caused by a hurricane.
The new model used data collected by the U.S. Army Corps of Engineers and the National Hurricane Center to calculate the amount of damage hurricane-induced storm surges would inflict on the city. A previous study in 1995 predicted that a Category 3 hurricane could create surges of up to 25 feet at JFK Airport, 21 feet at the Lincoln Tunnel entrance, 24 feet at the Battery and 26 feet at La Guardia Airport.
The estimates did not include the effects of tides or boosted wave heights on top of the surge.
Even an increase of as little as 1.5 inches in normal sea level could contribute to flooding many parts of the city if a Category 3 hurricane were to strike, said Gornitz and fellow researcher Rosemary Rosenzweig. Hurricanes are ranked from 1 to 5, with 5 being the strongest and most destructive.
Areas that could potentially be flooded [image], the researchers said, include the Rockaways, Coney Island, much of southern Brooklyn and Queens, portions of Long Island City, Astoria, Flushing Meadows-Corona Park, Queens, lower Manhattan and eastern Staten Island, from Great Kills Harbor north to the Verrazano Bridge.
The findings will be presented this week at the annual meeting of the Geological Society of America in Philadelphia.
Already rising
Sea levels around the world have been rising steadily, by fractions of an inch, during most of the 20th century, but the rate of increase has nearly doubled, to 0.12 inches per year, within the last decade. Scientists believe warming of the world's oceans and melting glaciers caused by global warming are to blame.
A 2001 report by the Intergovernmental Panel on Climate Change found that a global warming of 1.4 to 5.8 degrees Celsius (2.5 to 10.4 degrees Fahrenheit) could raise sea levels 4 inches to 3 feet by the end of the century.
Recent studies have also linked human-caused global warming to increases in hurricane strength and duration, but some scientists attribute the changes to natural cycles in global weather patterns.
Stay up to date on the latest science news by signing up for our Essentials newsletter.