Subway Flooding: A Hidden and Neglected Risk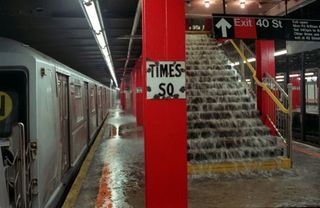 Subways and other spaces under major cities where people gather in droves are vulnerable to catastrophic flooding and city officials aren't doing enough to prepare, researchers said today.
In many cities worldwide, major floods that might occur once a century or less have not struck since life's gone underground.
"Relative to geological time scales, urban development in the past century has taken place extremely fast. New urban development can take place completely oblivious to underlying risks as their existence has been too short to experience the extreme events," said Srikantha Herath of the United Nations University (UNU) in Tokyo.
Herath and others will present their latest research on the topic next week at the World Conference on Disaster Reduction in Kobe, Japan.
More than 50 percent of the world's people live in cities. By 2030, that number is expected to rise to 65 percent. More and more of them spend time underground in increasingly complex, interconnected spaces. In many cities, officials fail to consider what might happen in a major flood, and they don't have complete maps of what's down there, Herath and colleagues say.
"The concentration of people and wealth in such underground spaces is expanding and merits careful examination," Herath said.
Nature has sent plenty of gentle reminders of the power she ultimately wields over humans. Manhattan subways have been flooded in the past by powerful storms called nor'easters, for example. In September, rain from the remnants of Hurricane Frances flooded subways in New York City, stranding some passengers aboard trains that had to be stopped by flooded tracks.
Manmade Disaster Water cascades down the steps leading to the Times Square subway platform in New York after a water main break shut down virtually all subway service on the West side of Manhattan Saturday, May 4, 1996. AP Photo/Wally Santana
That storm's glancing blow was minor compared to a hurricane taking direct aim on Manhattan, which weather experts say is likely to happen sooner or later.
A rare northward-racing hurricane in 1938 made a direct hit on Providence, Rhode Island. It sunk the downtown area under 12 feet of water. A similar scenario could play out in lower Manhattan, according to flood projections by the Army Corps of Engineers.
Other world cities are even more vulnerable, owing to questionable construction practices and lack of warning systems.
Exacerbating the risk, subways and other tunnels that connect to each other can funnel floodwater to unexpected places. And a disaster underground could cause the collapse of structures that support the floors above, researcher say.
"It is essential to plan and construct underground space based on information such as connectivity, and to design carefully all uncovered entrances to underground spaces," said Janos Bogardi, director of UNU's Institute for Environment and Human Security in Bonn, Germany. "At the same time, underground spaces should be designed to withstand multi-hazards. For example, fire risks require planners to also include the ability to seal off and compartmentalize underground space quickly."
It's not possible to reduce all risk, Bogardi says, so preparation is key.
"There will always be a hazard event that would go beyond the designed levels of infrastructure solutions, often creating unforeseen complications," Bogardi said. "The emphasis should be on reducing vulnerabilities and improving coping capacities."
The recent tsunami disaster in the Indian Ocean revealed how vulnerable the world can be to the unexpected, said United Nations Under Secretary-General Hans van Ginkel.
"Human existence was, and will always be, threatened by hazards of natural and man-made origin," van Ginkel said. "Thus human security can be defined better as knowing risks rather than eliminating risks."
Stay up to date on the latest science news by signing up for our Essentials newsletter.
Robert is an independent health and science journalist and writer based in Phoenix, Arizona. He is a former editor-in-chief of Live Science with over 20 years of experience as a reporter and editor. He has worked on websites such as Space.com and Tom's Guide, and is a contributor on Medium, covering how we age and how to optimize the mind and body through time. He has a journalism degree from Humboldt State University in California.