December US Snow Pack Largest in a Decade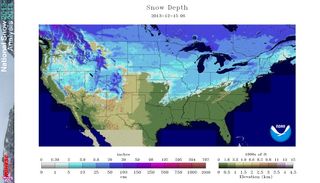 (Image credit: NOAA)
Earlier this week, snow covered more than half of the continental United States, the highest this measure has reached for this date in a decade, according to government scientists.
As of Dec. 15, the white, fluffy stuff covered 53 percent of the lower 48, the National Oceanic and Atmospheric Administration (NOAA) reported. That's a significantly higher portion than in recent years. In 2006, for example, snow covered just 12 percent of the lower 48 states on the same date, according to Climate Central, a climate news website.
November and early December have been quite chilly for much of the country. The average monthly temperature in the continental United States in November was 0.3 degrees Fahrenheit (0.2 degrees Celsius), which is below the 20th century average, Climate Central noted.
The cold has continued into mid-December for most of the country. "With the noteworthy exception of Alaska, nearly every state was affected by the unusually cold air at some point during the November-to-December timeframe, with temperatures dipping down to at least minus 43 [degrees] F (minus 42 C) in Montana on Dec. 8, and running 10 to 20 [degrees] F (5.5 to 11 C) below average elsewhere," Climate Central reported.
What's going on? An unusual configuration of the jet streamhas caused record heat in Alaska and corresponding below-average temperatures in the lower 48 states. This strange jet stream has brought warm air from the Pacific into Alaska, and cold Arctic air south into the continental United States, NOAA reported.
While the United States has had a cold start to winter, the rest of the world was warmer than average in November. "According to NASA, November was the warmest such month on record worldwide since reliable instrument temperature data began being collected in 1880," Climate Central reported.
But the only areas of the globe that were cooler than usual in November were the Central and Eastern United States, as well as part of Antarctica. And those few cold spots don't counteract the overall global warming trend: The top 10 hottest Novembers in NASA's dataset have all occurred since 2001, according to Climate Central.
In fact, November was the hottest month on record worldwide since at least 1880, NOAA reported.
Meteorologists expect a slight warm spell to hit the middle and eastern United States in the next week, which may reduce chances for a white Christmas, according to NOAA. For the rest of the winter, below-average temperatures are only expected in a relatively small portion of the Upper Midwest, while above-average temperatures are expected in the Northeast, the South and Alaska, NOAA's Climate Prediction Center reported.
The large snowpack largely results from a typical fluctuation in weather unrelated to climate change, said Kevin Trenberth, a senior scientist at the National Center for Atmospheric Research in Boulder, Colo.
Perhaps counter-intuitively, however, snowfalls in the United States could possibly increase with global warming. "If you warm up the atmosphere, you can actually get heavier snowfalls in winter" because warmer air can hold more moisture, Trenberth told LiveScience. "That's one of the ironic things about global warming."
So while this event cannot be definitively attributed to climate change, "Maybe we can say that without climate change, it would be colder still," Trenberth said. "That's a bit of a glib statement, but the odds are that it's true."
Email Douglas Main or follow him on Twitter or Google+. Follow us @LiveScience, Facebook or Google+. Article originally on Live Science.
Stay up to date on the latest science news by signing up for our Essentials newsletter.
Douglas Main loves the weird and wonderful world of science, digging into amazing Planet Earth discoveries and wacky animal findings (from marsupials mating themselves to death to zombie worms to tear-drinking butterflies) for Live Science. Follow Doug on Google+.