Robotic Surgeon Attacks Moving Tumors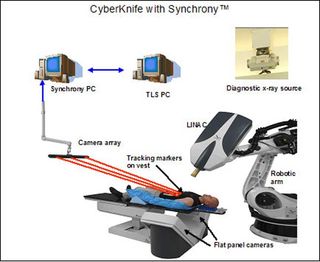 One of the nation's top cancer surgeons has just become a little bit better, and all it took was the installation of a new brain.
The surgeon, known as CyberKnife to its human colleagues, is a robot. Already deft at attacking brain tumors, CyberKnife received a computer software upgrade to more efficiently target constantly moving lung tumors.
CyberKnife was developed to pinpoint tumors and blast them from every angle with radiation, the goal being to confine the attack to cancerous tissue only.
If all goes well, after several treatments the tumor shrinks and disappears as if it were surgically removed, yet healthy tissues that might be damaged even by the nimble hands of a skilled human surgeon are spared.
Moving target
Brain tumors provide a nice steady target, but a cancerous growth in the respiratory system, which can move up to 2 inches back and forth as a person breathes, present more of a challenge—even to CyberKnife.
Now, Cihat Ozhasoglu of the University of Pittsburgh and colleagues have developed Synchrony, an add-on program for CyberKnife that allows it to follow the tumor to within a few hundredths of an inch as it moves.
As the CyberKnife trains its intense X-ray beam on the tumor, another weaker X-ray source takes real-time pictures of the patient's torso. Synchrony records the tumor's movements and tells CyberKnife when and where to direct the therapeutic beam.
Because the new setup zaps hardly any healthy tissue, doctors can ramp up the radiation dose to 10 times what is used when treating lung tumors with conventional methods.
Time saver
Patients need only endure one to three 60 to 90-minute sessions rather than the 20 to 30 15-minute visits required with conventional therapy. Treating the tumor at a higher dose for longer time causes the growth to absorb 10 times more tissue-killing radiation than conventional treatment.
"We're not just trying to save patients time. The main goal is we're hoping to be more effective," Ozhasoglu told LiveScience. "By giving a much higher dose in a shorter period we're hoping to have higher cure rates."
The first year of test treatments has yielded positive results, but it is still too early to determine if the technique is totally killing tumors or if there are other long-term effects.
These findings will be presented in August at the annual meeting of the American Association of Physicists in Medicine in Orlando, Fla.
Stay up to date on the latest science news by signing up for our Essentials newsletter.
Bjorn Carey is the science information officer at Stanford University. He has written and edited for various news outlets, including Live Science's Life's Little Mysteries, Space.com and Popular Science. When it comes to reporting on and explaining wacky science and weird news, Bjorn is your guy. He currently lives in the San Francisco Bay Area with his beautiful son and wife.