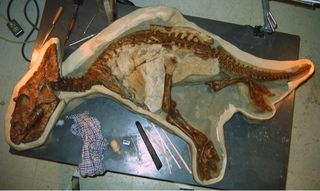 (Image credit: Philip J. Currie, Robert Holmes, Michael Ryan Clive Coy, Eva B. Koppelhus)
The tiny, intact skeleton of a baby rhinoceroslike dinosaur has been unearthed in Canada.
The toddler was just 3 years old and 5 feet (1.5 meters) long when it wandered into a river near Alberta, Canada, and drowned about 70 million years ago. The beast was so well-preserved that some of its skin left impressions in the nearby rock.
The fossil is the smallest intact skeleton ever found from a group of horned, plant-eating dinosaurs known as ceratopsids, a group that includes the iconic Triceratops. [See Images of the Baby Dino Skeleton]
Rare find
Finding intact baby dinosaurs is incredibly rare.
"The big ones just preserve better: They don't get eaten, they don't get destroyed by animals," said study co-author Philip Currie, a paleobiologist at the University of Alberta. "You always hope you're going to find something small and that it will turn out to be a dinosaur."
Paleontologists had unearthed a few individual bones from smaller ceratopsids in the past. But without intact juvenile skeletons, such bones aren't very useful, as scientists don't really know how each bone changes during each stage of the animals' lives, Currie said.
The team was bone-hunting in Dinosaur Provincial Park in Alberta when Currie came upon what looked like a turtle shell sticking out from a hillside. Upon closer inspection, the fossil turned out to be a frill, the bony decorative headgear that surrounds the back of the head in ceratopsids.
When the team excavated, they found the fossilized skeleton of a tiny dinosaur they identified as a Chasmosaurus belli, a species commonly found in the area.
Drowning victim
Amazingly, almost the entire skeleton was intact, although sometime in the past, a sinkhole had opened up below the beast and the forelimbs had fallen away into an abyss. The fossil was so well-preserved that the tiny, rosettelike pattern on its skin was imprinted in the rock below the dinosaur.
Based on its size, the team estimates the dinosaur was about 3 years old — just out of infancy — when it perished. (Like humans, these dinosaurs typically take about 20 years to reach maturity, at which point they have 6.5-foot-long [2 meters] skulls and weigh 3 to 4 tons.)
The fossil was found in sediments associated with watery environments and didn't have any bite marks or trace of injury, so it's likely the dino toddler likely drowned.
"I think it may have just gotten trapped out of its league in terms of water current," Currie told LiveScience.
Soon after, the baby dinosaur was buried by sediments and left untouched for millions of years.
Growth rates
Aside from being cute, the new fossil helps paleontologists understand how these plant-eating dinosaurs grew. Paleontologists can then better identify and age the myriad individual bones from juveniles discovered over the years.
Already, the team has learned that Chasmosaur juvenile frills look different from those on adults, and that limb proportions don't change much as they grow. Predatory theropods such as Tyrannosaurus rex have disproportionately long limbs as juveniles, presumably to keep up with the adults in the pack.
By contrast, "in Chasmosaurians, the proportions are essentially the same, which probably means the adults were probably never moving that fast," Currie said. "There was never priority for these animals to run to keep up with the adults."
Follow Tia Ghose on Twitterand Google+. Follow LiveScience @livescience, Facebook & Google+. Original article on LiveScience.
Stay up to date on the latest science news by signing up for our Essentials newsletter.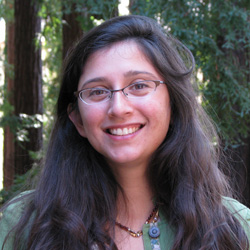 Tia is the managing editor and was previously a senior writer for Live Science. Her work has appeared in Scientific American, Wired.com and other outlets. She holds a master's degree in bioengineering from the University of Washington, a graduate certificate in science writing from UC Santa Cruz and a bachelor's degree in mechanical engineering from the University of Texas at Austin. Tia was part of a team at the Milwaukee Journal Sentinel that published the Empty Cradles series on preterm births, which won multiple awards, including the 2012 Casey Medal for Meritorious Journalism.