Wild and Wacky Tales from the 1906 Quake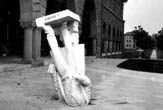 Big disasters produce amazing stories of struggle and survival that are usually more interesting, but oftentimes exaggerated.
True to form, the great San Francisco earthquake of April 18,1906 churned out its fair share of extraordinary behind-the-scenes vignettes, many of which have since been relegated to the file cabinet of other tall (and false) tales.
We've weeded out a few of the most interesting to emerge from the rubble, all of which historians claim are more than just hearsay:
One man, long paralyzed from the neck down before the earthquake, regained the ability to move when a looter tried stealing his bags from beside him in a park, where he was placed by friends after rescue. Enraged, the man's first act of mobility was to crack the criminal over the head with a plank of wood.
Eyewitnesses in Tomales Bay reported seeing a cow's tail protruding from a crack in the ground after the earthquake—as if the earth had opened, swallowed it whole, and then closed up again. No word on whether the Earth would have perhaps preferred its meal medium, or even well-done.
World-famous Italian tenor Enrico Caruso performed Carmen at San Francisco's Grand Opera House on the night of April 17. A few hours later, as fire raced through the Palace Hotel where he stayed, Caruso went to his room's balcony and sang a few notes to make sure his vocal cords were not ruined by the shock of the earthquake.
Every single tent belonging to the U.S. Military was sent to San Francisco to house the earthquake's homeless. One makeshift camp turned into a concert when a musically-inclined refugee dragged his piano to the spot and played tunes while the city burned.
As San Francisco threatened to descend into lawless mayhem, Mayor E.E. Schmitz enforced a shoot-to-kill policy against looters. Taking the orders too far, one officer shot a thirsty horse who was "looting" water leaking from a broken hydrant.
Forty-six workers at the U.S. Post Office defied orders to evacuate and battled the fire that threatened their building with mail sacks soaked in water. Incredibly, not a single piece of mail was lost in the blaze, although many of the addresses to which they were destined no longer existed.
A resilient terrier became a symbol of hope in the city after it emerged, perky and sober, from the wine cellar of the burned-out St. Francis Hotel five days after the earthquake.
Most of the exhibits inside Golden Gate Park's M.H de Young Memorial Museum were destroyed during the magnitude 7.8 quake. The exception was the largely untouched Alaska wing, which could be argued stayed put because that earthquake-prone state was used to far worse.
Of all the major buildings in San Francisco, the well-built U.S. Mint (at the time holding $300 million in assets in its vaults) survived with the least amount of damage. Today it sits empty and unused—because it doesn't meet modern earthquake codes.
Despite being packed with one of nature's fuels, another building to survive the quake and fire unscathed was A.P. Hotaling's whiskey warehouse. The odd miracle prompted a local poet to create this famous ditty:
If, as some say, God spanked the town,
Gallery: The 1906 Earthquake in Pictures
Quiz: Test Your Shaky Knowledge of the 1906 Quake
Gallery: Other Deadly Earthquakes
Stay up to date on the latest science news by signing up for our Essentials newsletter.
Heather Whipps writes about history, anthropology and health for Live Science. She received her Diploma of College Studies in Social Sciences from John Abbott College and a Bachelor of Arts in Anthropology from McGill University, both in Quebec. She has hiked with mountain gorillas in Rwanda, and is an avid athlete and watcher of sports, particularly her favorite ice hockey team, the Montreal Canadiens. Oh yeah, she hates papaya.