Clearwater | Space Wallpaper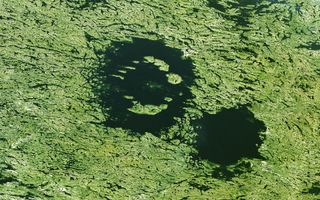 (Image credit: USGS/ESA)
This stunning space wallpaper is a Landsat image of the Clearwater Lakes in Canada's Quebec province. Located to the east of the Hudson Bay, what appears to be two separate lakes is actually a single body of water that fills two depressions. The depressions were created by two meteorite impacts, believed to have hit Earth simultaneously up to 290 million years ago. The name 'Clearwater Lakes' comes from the clarity of its water. This image was released March 13, 2013.
Stay up to date on the latest science news by signing up for our Essentials newsletter.
Space.com is the premier source of space exploration, innovation and astronomy news, chronicling (and celebrating) humanity's ongoing expansion across the final frontier. We transport our visitors across the solar system and beyond through accessible, comprehensive coverage of the latest news and discoveries. For us, exploring space is as much about the journey as it is the destination.