Deadly Heat Waves Intensify as Summers Sizzle (Op-Ed)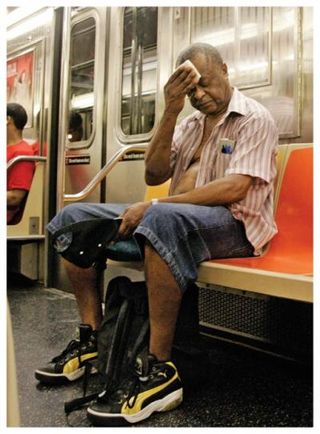 (Image credit: Environmental Health Perspectives)
Marlene Cimons of Climate Nexus contributed this article to LiveScience's Expert Voices: Op-Ed & Insights.
No one ever should die from heat. But every year, about 650 Americans do — a death toll greater than tornadoes, hurricanes, floods and lightning combined. And, in a deadly harbinger of what is worse to come, a new study shows that heat deaths are on the rise.
An analysis by the Centers for Disease Control and Prevention (CDC) released this week reported that between June 30 and July 13 of last year — the hottest year on record — excessive heat killed 32 people in four states: Maryland, Ohio, Virginia and West Virginia. That statistic was four times what has been typical for those states (when compared to the same two-week period averaged over the decade beginning in 1999).
Most of those who perished were at home and alone, and lacked air-conditioning.
From June 30 to July 13 of last year, temperatures in Maryland, Ohio, Virginia and West Virginia ranged from 83 degrees Fahrenheit (28 degrees Celsius) to 104 F (40 C), an average of 9.5 F warmer than normal. The heat wave followed a series of powerful thunderstorms, with wind gusts up to 80 miles per hour, that caused widespread damage across parts of the Ohio Valley and the Mid-Atlantic regions. Power outages affected about 3.8 million people, and in some areas, lasted as long as eight days. [The World's Weirdest Weather Explained]
The same study said that a total of 7,233 heat-related deaths occurred in the United States between 1999 and 2009, with three states — California, Arizona and Texas — accounting for about 40 percent of them.
Since the beginning of civilization, it has not been unusual for a population in a given part of the world to have an occasional heat wave . But thanks to climate change, the world is hotter than it's ever been — and getting hotter.
"A [killer] heat wave … was a rare event in earlier times," says Michael Oppenheimer, professor of geosciences and international affairs at Princeton University. "It's still a rare event, but much less so. In the future, it becomes a common event. It becomes the norm by the end of the century."
Studies suggest that if global warming continues unabated, excess heat-related deaths in the nation could climb to between 3,000 and 5,000 annually by 2050, according to the CDC. Ultimately, about 150,000 or more additional Americans could die in heat waves by the end of the century, according to an analysis of peer-reviewed scientific literature conducted by experts at the Natural Resources Defense Council.
In warmer months, heat waves — often defined as four or more consecutive days with temperatures higher than what is typical for a particular region — stress the human body. They can lead to excessively high body temperatures, and with extended exposure, brain and organ damage, and death. Everyone is at risk, but the elderly, children, the poor or homeless, those who work or exercise outdoors, and people with chronic medical conditions are the most vulnerable.
The Intergovernmental Panel on Climate Change (IPCC) projects a 3.6 F (2 C) warming globally by the middle of the century, regardless of any actions to curb greenhouse gases. By the end of the century, that could grow to an increase of 9 to 11 F (5 to 6 C), under higher emissions, "so if its five degrees warmer normally, and you have a heat wave on top of that, it's going to break records," says Michael Wehner, a staff scientist at the Lawrence Berkeley National Laboratory.
The nation is experiencing "almost three record highs for every record low," says Gerald "Jerry" Meehl, a senior scientist at the National Center for Atmospheric Research (NCAR). "As the climate continues to warm, we can expect more intense, longer lasting and more frequent heat waves in the future. We will still have cold snaps, but fewer of them."
Heat waves have increased globally since 1950, and individual heat waves have become more frequent, longer and hotter. In July 1995, for example, Chicago and Milwaukee both had sweltering heat waves, with more than 700 deaths in Chicago and nearly 100 in Milwaukee. In the summer of 2011, Texas endured a historic string of record-shattering hot days and in 2010 western Russia experienced its hottest July since 1880.
In 2003, tens of thousands of people perished in Europe, where air-conditioning is rare, when during a period of 10 days, temperatures regularly rose above 104 F (40 C). About 35,000 people died, according to the Earth Policy Institute, including nearly 15,000 in France.
"The European, Russian and Texas heat waves were unprecedented events, but still had a certain risk of occurring, even if humans hadn't changed the atmospheric composition," Wehner says. "But humans have changed the atmosphere … and the odds have changed."
Dáithí Stone, now a research scientist in the Berkeley lab, took part in a climate modeling study of the 2003 European heat wave when he was at the University of Oxford, along with colleagues Peter Stott of the Met Office Hadley Centre and Myles Allen, also of the University of Oxford.
"We compared the chances of a summer over southern Europe warmer than the previous record, in 2001, between simulations of climate models run under the world we have experienced, with greenhouse gas emissions, changes in the brightness of sun, and such other drivers, against simulations under 'a world that might have been' if human activities had never interfered with the climate," Stone says.
He and his colleagues concluded that human activities that increase greenhouse gases "at least doubled the chance of this happening," Stone says, adding, "by our estimates, the 2003 summer in Europe is about what you can expect to be exceeded every second year by the middle of the century."
In the aftermath of the 1995 Chicago heat wave, city planners asked Donald Wuebbles, professor of atmospheric sciences at the University of Illinois at Urbana-Champaign, to analyze the future impact of climate change on the city. Wuebbles used special statistical approaches to predict what would happen under both high and low emissions scenarios.
"If we continue heavily using fossil fuels to the end of the century, we might have three such heat waves every single year," Wuebbles says. "With the low scenario, we'd still get one every other year."
This week, the CDC urged local governments to warn their residents about heat dangers, and increase access to air-conditioning, cooling stations and other public locations. Chicago launched such a plan in the aftermath of the 1995 heat wave, and it paid off.
"In July, 2011, we had another heat wave of comparable size, but instead of 739 deaths, there were only 20 deaths," Wuebbles says. "So we learned that the best response to a heat wave was to prepare for it."
For more information on how to prepare for heat waves, the following information was made available by the CDC:
Extreme Heat and Your Health Website: This new page collects CDC resources on extreme heat in one place and provides information on how to prevent heat-related illnesses and deaths for a variety of audiences. The site can be accessed at http://www.cdc.gov/extremeheat/
Environmental Public Health Tracking Data: CDC's Environmental Public Health Tracking Network introduces new data on heat-stress hospitalizations and emergency room visits from 2000-2011. This adds to the records already available on extreme temperatures, heat-related deaths and social and environmental conditions that make people vulnerable to extreme heat. Decision makers can use these data to plan how and where to focus efforts to protect the public from extreme heat. The Tracking Network can be accessed at www.cdc.gov/ephtracking.
Climate Change and Extreme Heat Events Guidebook: This recently released guidebook for state and local health departments describes how to prepare for and respond to extreme heat events and explains how the frequency, duration, and severity of these events are increasing as a result of climate change. An audio file for the recent CDC extreme heat event webinar is also available for tips and guidance. The guidebook is available at http://www.cdc.gov/climateandhealth/pubs/ClimateChangeandExtremeHeatEvents.pdf
The webinar archive can be accessed at: https://cc.readytalk.com/cc/s/meetingArchive?eventId=qozysq4qk56y
Workplace Solutions Bulletin: This recently released NIOSH bulletin provides updated statistics, case studies and recommendations for workers and employers to follow in order to reduce the risk of heat-related illness when working outdoors. The report provides specific guidance, examples and it adds to the available resources that illustrate how extreme heat exposures can lead to occupational illnesses and injuries and possible death. The NIOSH resources are available at: http://www.cdc.gov/niosh/docs/wp-solutions/2013-143/
http://www.cdc.gov/niosh/topics/heatstress/
Read Cimons' most recent Op-Ed: Is Tornado Intensity Increasing?
The views expressed are those of the author and do not necessarily reflect the views of the publisher. This article was originally published on LiveScience.com.
Stay up to date on the latest science news by signing up for our Essentials newsletter.