Australia Heat Sparks Fires, Shatters Records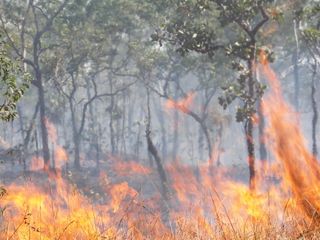 (Image credit: <a href="http://www.shutterstock.com/pic-3491758/stock-photo-bushfire-focus-on-burning-grass-in-foreground.html?src=75d77497068fe4c4e4a3b35e98aef037-4-77">Australia bushfire image</a> via Shutterstock)
This article was provided by AccuWeather.com.
Tasmania has borne the brunt of fires sparked by a severe heat wave that has spread over much of Australia since the first of the year.
Temperature records have been broken in four of Australia's seven states as readings soared well above 100 degrees.
Forecasters are warning of continued widespread heat in Australia well into this week.
More than 100 people are missing and more than 100 properties have been destroyed in Tasmania, where more than 40 bushfires were burning, the Australian ABC News website said on Sunday.
Fires were also kindled on the mainland Friday amid severe heat and gusty wind, and some were still burning out of control in the state of Victoria as of Saturday.
Weather record books for Tasmania will have to be rewritten following the highest temperatures in more than 100 years.
Friday, Hobart registered 41.8 degrees C (107.2 F), shattering the old high mark of 40.8, set on Jan. 4, 1976, data from the Australian Bureau of Meteorology (BoM) showed. Record keeping began in Hobart in 1882.
The Hobart airport also set a record high, being 40.3 degrees C, or 104.5 degrees F. The normal high is only 21.6 degrees C, or 71 degrees F.
Orford and Bushy Park, also in southeastern Tasmania, also set high temperature records, the BoM website showed.
Meanwhile, the southern cities of Melbourne and Adelaide got a respite, following Friday's searing winds, thanks to onshore flow.
Adelaide city topped at 45 degrees C, or 113 F, Friday. While the South Australia state capital high was not a record, the nearby airport's maximum of 44.1 degrees C was, if by only 0.1 of a degree.
Elsewhere in South Australia, temperatures Friday and Saturday rose as high as 48.3 degrees C (119 F), the hop spot honors going to Marree.
Oodnadatta, holder of the Australian national high of 50.7 degrees C (123.3 F) could "only" muster a high mark of 47.8 degrees C (118 F) on Sunday, its hottest day.
In the Melbourne area of Victoria, Friday topped at about 40 to 42 degrees C, or 104 to 108 degrees F, ahead of Saturday's welcome "cool change," which blew in from the Southern Ocean. But temperatures reached 45 degrees C (113 F) for a second straight day in northwestern Victoria.
Western Australia, a vast state taking up nearly the western half of the continent, was the breeding ground for the huge mass of hot air, beginning in the last week of December. The heat then broke out to the east after the start of new year.
New record highs were set at Eyre (47.7 degrees C on the 2nd) and Eucla (47.9 degrees on the 3rd), data from BoM website indicated.
Sunday, severe heat was centered well inland, but was poised to take another swipe at Australia's biggest population centers.
Both Adelaide and Melbourne will heat up Monday, but less so than last Friday.
However, Sydney, which ducked last week's hot blast, will get a withering shot of heat on Tuesday, when readings will spike to about 42-43 degrees C (108-110 degrees F).
In Tasmania, meanwhile, the fight to contain fires continued on Sunday. Authorities warned that the lack of rain for the coming week could bring worsening fire conditions, ABC News said.
Up to 2,000 people were stranded on the Tasman Peninsula after roads were cut by fire. The peninsula was also without power, following burning of about 300 poles, according to ABC.
Most destructive of the island state's fires started at Forcett, east of Hobart.
See Also:
Photos: Surviving Australia's Heat http://www.accuweather.com/en/weather-news/photos-surviving-australias-he/3690339
AccuWeather.com. All rights reserved. More from AccuWeather.com.
The only sure thing about weather forecasts is that they're wildly different all over the planet. Test your knowledge on the wild ranges in temperature, precipitation and more.
Extreme Weather Facts: Quiz Yourself
Stay up to date on the latest science news by signing up for our Essentials newsletter.