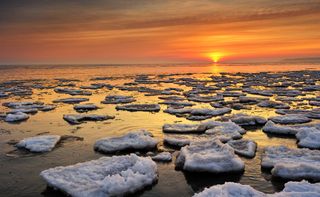 (Image credit: <a href="http://www.shutterstock.com/gallery-827020p1.html">John McCormick</a> | <a href="http://www.shutterstock.com/">Shutterstock</a>)
Lake Huron is easy to find. It is the Great Lake that forms Michigan's mitten shape right next to Canada. It also has the longest shoreline of the Great Lakes. It is the second largest by surface area and the third largest by volume of water. This lake is also the fifth largest fresh water lake on the planet, according to the Michigan Economic Development Corporation.
The lake's surface area is 23,000 square miles (59,600 square kilometers) and its volume is 850 cubic miles (3,540 cubic km). The shoreline is 3,827 miles (6,157 km), taking into account its many islands, according to the Environmental Protection Agency (EPA).
Lake Huron is situated between the eastern shore of Michigan and Ontario, Canada, to the north. Port Huron/Sarnia, where Huron meets the St. Claire River, is at the southernmost point of the lake. Lake Huron is connected to Lake Michigan by the Straits of Mackinac and, technically, these two lakes are one lake. The water from Lake Superior also flows into Lake Huron through the St. Mary's River.
Of the lake's 30,000 islands, Manitoulin Island, which sits in the Georgian Bay, is the most prominent island, with more than 12,000 residents. It is also the world's largest freshwater island and Canada's 31st largest island. Amazingly, the island has over 100 freshwater lakes of its own.
Formation and history
Ice glaciers melting at the end of the latest Ice Age were responsible for the formation of Lake Huron and all of the other Great Lakes.
It was the first of the Great Lakes to be explored by the Europeans in the 1600s. The French explorers Samuel de Champlain and Étienne Brûlé reached Georgian Bay in 1615, according to the Canadian Museum of History. Others soon followed, including Louis Joliet, who traveled Lake Huron in 1669 by canoe before coming upon Lake Erie.
Lake Huron is named for the Wyandot Indians, or Hurons, who lived there. But because it was the first of the Great Lakes to be explored by the French, they called it La Mer Douce, meaning fresh-water sea.
Traders and missionaries, as well as many Native Americans, have boated across Lake Huron. The shores have 120 lighthouses that once was used to guide these boats. The lake is known for its storms and sometimes dangerous sailing, though. On Nov. 9, 1913, Lake Huron was hit by the worst storm ever to hit the Great Lakes. The storm produced unprecedented wind gusts of 90 mph (145 kph) and ocean-like waves of more than 35 feet (11 meters) The powerful 16-hour storm, which was called The Big Blow, sank 10 ships and killed 235 seamen, making it the deadliest storm to hit any of the Great Lakes.
Overall, there have been more than 1,000 shipwrecks on the lake and there are many still at the bottom, some are preserved as artifacts. In 2012, more than 100 years after it sank, a dive team discovered the 238-foot steamer New York. [Image Album: Shipwreck Alley's Sunken Treasures]
Water temperatures
Lake Huron is a popular recreational spot, particularly in the summer months, when surface water temperatures can reach 73 F (23 C) in August. The lake does not freeze over often — about once a decade — and the last time it happened was in 2003. Low temperatures are about 34 F (1 C).
Because water flows in from both Lake Superior and Lake Michigan, water flows through Lake Huron much more quickly than other Great Lakes. It also has a large drainage area, which covers parts of Michigan and Ontario.
Lake Huron fishing
Round whitefish. ruffe, sea lamprey, smallmouth bass, walleye, white bass, white perch, white sucker and yellow perch are some of the predominant fish found in Lake Huron.
Lake Huron features some heavily forested areas, including Huron-Manistee National Forests, which boast 10,000 acres of pine, aspen and hardwood forest. The area is also home to what scientists believe are some 7,000-year-old petrified trees that are underwater.
Additional reporting by Alina Bradford, Live Science Contributor.
Additional resources
Stay up to date on the latest science news by signing up for our Essentials newsletter.
Kim Ann Zimmermann is a contributor to Live Science and sister site Space.com, writing mainly evergreen reference articles that provide background on myriad scientific topics, from astronauts to climate, and from culture to medicine. Her work can also be found in Business News Daily and KM World. She holds a bachelor's degree in communications from Glassboro State College (now known as Rowan University) in New Jersey.