Lake Superior: Facts About the Greatest Great Lake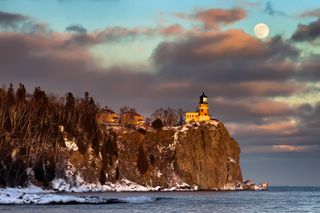 (Image credit: <a href="http://www.shutterstock.com/gallery-945589p1.html">Igor Kovalenko</a> | <a href="http://www.shutterstock.com/">Shutterstock</a>)
Lake Superior is not only the largest of the Great Lakes; it is the largest body of fresh water on Earth. Situated on the northern edge of Wisconsin, Lake Superior extends from the upper peninsula of Michigan north to Ontario, Canada, and reaches west to the eastern edge of Minnesota. The name Superior refers to its size and also designates the lake's position as the northernmost of all the Great Lakes.
The lake is about 160 miles (257 kilometers) wide and about 350 miles (563 km) long. It has a surface area of 31,700 square miles (82,100 square km) and water volume of 2,900 cubic miles (12,100 cubic km). The shoreline measures 2,726 miles (4,385 km), according to the Environmental Protection Agency (EPA).
How deep is Lake Superior?
The deepest point in Lake Superior is 1,300 feet (400 meters) below the surface, making a complete freeze a rarity. Lake Superior boasts extremely clear water, with an average underwater visibility of 27 feet (8.2 m). It takes almost 200 years for the lake to refill with new water, according to the University of Wisconsin.
Lake Superior water temperature
Like all of the Great Lakes, Lake Superior is prone to lake effect snow, but the weather is generally moderate, with warmer temperatures than inland throughout the year. Winter temperatures around the lake rarely fall below minus 30 F (minus 34 C), well above inland temperatures. June and July are calm months, while October and November are prone to storms.
During most winters, the lake is 40 to 95 percent covered with ice, although it rarely completely freezes. The last time Lake Superior froze over was in 2014. Overall, the Great Lakes reached a 91 percent ice cover that year, which is the most the lakes have frozen since 1979. Freezing of the lakes is monitored because it affects hydropower generation, commercial shipping, the fishing industry and more, according to the Office of Oceanic and Atmospheric Research.
The average water temperature is 40 F (4.4 C) — lower than the other Great Lakes, which are farther south. The water temperatures during the summer months average about 55 F, but surface temperatures reached a record 68.7 F (20.4 C) in August 2010 and are affected by the amount of surface ice during the previous winter.
Formation and history
Lake Superior first took shape about 1.2 billion years ago as a result of the North American Mid-Continent Rift, which carved an arc-shaped scar stretching from Kansas through Minnesota. The first people to settle in the region arrived around 8000 B.C., after glaciers retreated, according to History of Lake Superior: A Timeline. By 500 B.C., Laurel people were trading for metal and other goods with different regions. By the early 1600s, the Ojibway people had established a village of several thousand on Madeline Island.
French explorers, including Samuel de Champlain (circa 1567-1635) and his scout, Étienne Brûlé (circa 1592-1632), arrived in the mid-1600s, according to the Canadian Museum of History.
The lake's name comes from the French word lac supérieur, which means "upper lake." It called this because it is north of Lake Huron, which was discovered first by Brûlé. The Objibways said that the lake was protected by Nanabijou, Spirit of the Deep Sea Water, according to the University of Wisconsin.
Superior was a major mode of transportation for the fur industry and other trading activities during the Colonial period and remains a shipping hub today.
Because of varying depths and unpredictable weather, Lake Superior and the other Great Lakes have been prone to maritime accidents. One of the most well-known incidents occurred on November 10, 1975, when the Edmund Fitzgerald, a large cargo ship carrying iron ore, encountered a severe storm that killed the ship's 29 crew members.
Life on Lake Superior
Lake Superior is home to about 80 species of fish, including carp and varieties of trout, salmon and perch.
The Lake Superior region is also home to many common native plant species, including Michigan's state tree, the white pine, and Flowering Rush, an aquatic plant that grows along the shoreline. Lake Superior's basin is home to nearly 60 orchid species.
As with many lakes, Lake Superior is home to many species of birds, including varieties of hawks, loons, owls and woodpeckers. Duluth's Hawk Ridge, which is on the lake's north shore, hosts as many as 10,000 migrating birds of prey each day during the fall migration season.
There is a small population of endangered whooping cranes on the lake's north shore, one of only two crane species in North America. As of 2017, there were only 483 individuals in the wild across North America, according to the International Union for Conservation of Nature.
Additional reporting by Alina Bradford, Live Science Contributor
Additional resources
Stay up to date on the latest science news by signing up for our Essentials newsletter.
Kim Ann Zimmermann is a contributor to Live Science and sister site Space.com, writing mainly evergreen reference articles that provide background on myriad scientific topics, from astronauts to climate, and from culture to medicine. Her work can also be found in Business News Daily and KM World. She holds a bachelor's degree in communications from Glassboro State College (now known as Rowan University) in New Jersey.