'Wannabe' La Niña Clouds Fall Weather Forecast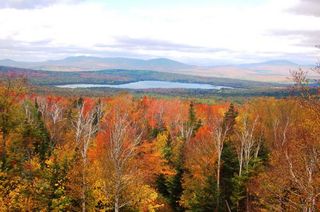 (Image credit: Jim Wilcox)
Say goodbye to summer and lift your glasses to fall. Today (Sept. 23) is the autumnal equinox (officially it was at 5:04 a.m. EST), the first day of fall.
Fall couldn't arrive soon enough for most people in the United States, after a year of wild weather. So far, 2011 has seen a winter of monster snowstorms, a record-breaking spring tornado season, epic spring and summer flooding and a costly hurricane season. Already this year, the United States has seen 10 weather disasters that each passed $1 billion in damage.
So what can we expect from fall? The forecast is hazy, but a La Niña climate pattern, which has been blamed for some of the severe weather, is expected to return, though much weaker than this time last year. [Related: Earth's Seasons Change With Equinox ]
"Right now we have what I call a 'wannabe' La Niña," said Bill Patzert, a climatologist at NASA's Jet Propulsion Laboratory in Pasadena, Calif. "It's more like a La Nada." La Niñas feature cooler-than-average Pacific Ocean temperatures that influence global weather patterns. Without a strong La Niña right now, or another climate pattern to dominate the weather, the forecast mostly calls for more of the same for the time being.
"The short story is, it's too early to tell," Patzert said. "I'm not telling people to go use the Farmer's Almanac, but until we have better information, the forecast [for fall] is going to be tough."
Wet gets wetter, dry stays dry
If La Niña does rev up, meteorologists see two big stories on their radar: too much rain where it's unwelcome, and little rain where people are praying for it.
The first half of fall looks to be wet in the Northeast and Mid-Atlantic, said meteorologist Andy Mussoline of AccuWeather.com. That's bad news for Vermont and upstate New York, which were pounded by Hurricane Irene .
"That could re-aggravate flooding across those regions and they've already been hard-hit with record rain over the last couple of months," Mussoline told OurAmazingPlanet.
While wet areas are forecast to get wetter, dry areas will stay dry.
"Looks like there's no relief to the record drought ongoing across Texas ," Mussoline said.
The Climate Prediction Center's seasonal outlook across the southwest predicts that the drought will linger through the fall. Some areas in the northern edge of the Southern Plains could see a one-category improvement in their drought severity, but that's not much help.
As of Sept. 20, 85 percent of Texas had drought conditions classified as D4, or exceptional, the highest classification.
"If they've improved one category, they're still in a pretty significant drought," said climatologist Brian Fuchs of the National Drought Mitigation Center at the University of Nebraska, Lincoln.
No one can say if the last part of hurricane season will bring drought relief, but with months to go in what has been an active Atlantic hurricane season, a storm could blow through Texas.
"That could give them a big shot of rain," Fuchs said.
Hurricanes and tornadoes
Hurricane season has been an active one so far, and there's no reason to expect it to slow down. So far there have been 15 named storms (which include tropical storms and hurricanes), three hurricanes (Irene, Katia and Maria) and two major hurricanes (Irene and Katia). The forecast called for 14 to 19 named storms, seven to 10 hurricanes and three to five major hurricanes (Category 3 or higher).
Later in fall, thunderstorms and tornadoes will again be the story during the so-called "second tornado season" in November. The main tornado season runs from spring to early summer, but tornadoes can form under a variety of conditions and strike during fall and winter. (As one example, a weak tornado hit Brooklyn and Queens in September 2010.)
The focus of this year's forecast is on Tornado Alley, not Dixie Alley, which was hammered during the spring.
"It looks like the highest threat for severe weather will be away from [Dixie Alley], which is good news, but the threat is still high across the Central Plains," Mussoline said.
During the fall, nighttime tornadoes are a big risk since the days are shorter. November has averaged four tornado-related fatalities per year since 1950, the most for a late-summer or fall month, according to the Storm Prediction Center in Norman, Okla.
You can follow OurAmazingPlanet staff writer Brett Israel on Twitter: @btisrael. Follow OurAmazingPlanet for the latest in Earth science and exploration news on Twitter @OAPlanet and on Facebook.
Stay up to date on the latest science news by signing up for our Essentials newsletter.
Brett Israel was a staff writer for Live Science with a focus on environmental issues. He holds a bachelor's degree in biochemistry and molecular biology from The University of Georgia, a master's degree in journalism from New York University, and has studied doctorate-level biochemistry at Emory University.