Making Robots with Mass Appeal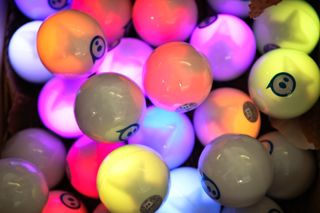 (Image credit: Sphero)
Not so long ago, the idea of most people owning a robot seemed far-fetched. But today, not only can consumers buy robots, but they can do so relatively cheaply.
The world of consumer robotics is finally beginning to merge with the world of everyday people, and some products really stand out. But in this growing and cutting-edge field, what makes a robot commercially successful? TechNewsDaily spoke with two creators of successful consumer robots to find out how they make their products click with the masses.
Ian Bernstein, the cofounder and Chief Technology Officer at Orbotix, believes the secret to success is simplicity, at least for now. "[The robot] has to be really simple, because if it's too complicated, people won't use it," Bernstein said. He and his team are responsible for Sphero, a simple robotic sphere with a range of capabilities.
But that simplicity didn't come easy, said Bernstein. "We were constantly improving to make things intuitive and simplify things. It was so hard to get this thing to work. It was crazy."
Complicating the challenge of making a straightforward robot, Bernstein also wanted to produce an affordable product, one that would be accessible to a wide audience. Over the last few years, the Orbotix team made that goal a reality.
[Flying and Rolling Robots Work Together]
Users can control Sphero by remote, using an iPhone or Android. But the robot can also function as an onscreen controller to replace traditional gaming controllers, tabletop and multiplayer games, and, most recently, augmented reality games (games that enable users to view the real-word environment along with augmented, machine-generated elements). The ball, which two years ago was simply a concept, became hugely popular, and is now available for $129 at retailers like Brookstone, Apple and Target.
And the Orbotix team has no intention of slowing down. With more and more apps on the way, Bernstein and his group are excited about the future of Sphero, and for new Orbotix creations.
"I think Sphero is a good introduction to gaming robots, and as people get more comfortable with that idea, we can begin to do more complicated things," said Bernstein. "In fifteen years, we want to be the company building one-and-a-half foot [tall] robots that you buy at Target and battle [with] while you're jumping around your living room."
But the current world of consumer robots isn't limited to entertainment. Jasen Wang, the founder of MakeBlock, believes that the ability to create is an essential piece of the consumer robotics market. His product, what he calls "Legos for adults," allows consumers to buy parts and build robots for themselves.
"Most people are creative people," said Wang, "and they have ideas, so now, if they want to, they have the opportunity to realize those ideas." Like, Bernstein, Wang wanted to create an intuitive product. "Before, if you wanted to produce something, it was very hard on the mechanics side. Our goal is make it easy for people to build robots."
Admittedly, MakeBlock does require some knowledge of hardware, and Wang believes that the product needs to be simplified even more. But, he explains, just as a child benefits from playing with Legos, adults will learn as they manipulate and play with products like MakeBlock.
In the years to come, Wang believes that knowledge of robotics will become more ubiquitous, allowing more people to design and build their own robots. And he believes MakeBlock can help catalyze that process. "In the future, there will be a lot of makers in the world," Wang said. And with MakeBlock, "there are no limits on the imagination or what you want to do."
But for now, according to both Bernstein and Wang, the most important component of a consumer robot is simplicity. Allowing people to acclimate to using robots at home will allow the industry to move forward into a future in which robots play a much larger role, not only as entertainment devices, but as tools in our everyday lives.
This story was provided by TechNewsDaily, sister site to LiveScience.
Stay up to date on the latest science news by signing up for our Essentials newsletter.