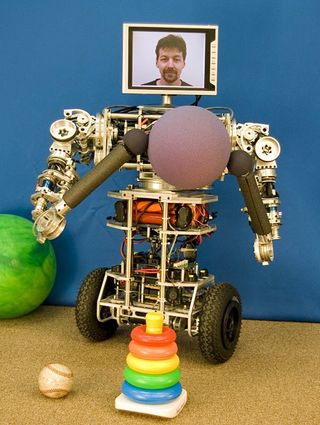 (Image credit: University of Massachusetts)
The U.S. medical system faces an imminent crisis as baby boomers age into retirement, but an army of little helper robots might soften the blow.
Researchers designed a two-wheeled robot, known as uBOT-5, with two arms capable of picking up small objects, using a stethoscope and even dialing 9-1-1. Sensors near its video-screen head can also figure out if someone has fallen.
"For the first time, robots are safe enough and inexpensive enough to do meaningful work in a residential environment," said Rod Grupen, a computer scientist at the University of Massachusetts (UMass) Amherst.
Grupen helped develop uBOT-5 in response to the growing crisis faced by the U.S. medical system as almost 78 million baby boomers begin joining the 65-and-older crowd during the next three decades.
He noted that it costs about $65,000 to build a single robot in the lab, but told LiveScience that manufacturers have said it might cost only a "couple of thousand" to mass-produce the automatons. A part-time, human in-home caregiver can cost more than $1,500 per week.
Aside from its life-saving abilities, uBOT-5 can also remind people to take their medication, pick up packages and do some cleaning and shopping. It can even administer virtual house calls from doctors using a Web cam, microphone, touch-sensitive LCD screen and Internet connection — tools that Grupen said clients should find other uses for.
"Grandma can take the robot's hand, lead it out into the garden and have a virtual visit with a grandchild who is living on the opposite coast," Grupen said.
UMass computer scientists Allen Hanson and Edward Riseman helped Grupen design and build uBOT-5, along with graduate students Patrick Deegan, Emily Horrell, Shichao Ou, Sharaj Sen, Brian Thibodeau, Adam Williams and Dan Xie.
Wild Technologies: The Next Step With Richard Hart
Gallery: Cutting Edge Robots
Video: Running Robot
Stay up to date on the latest science news by signing up for our Essentials newsletter.
Dave Mosher, currently the online director at Popular Science, writes about everything in the science and technology realm, including NASA's robotic spaceflight programs and wacky physics mysteries. He has written for several news outlets in addition to Live Science and Space.com, including: Wired.com, National Geographic News, Scientific American, Simons Foundation and Discover Magazine. When not crafting science-y sentences, Dave dabbles in photography, bikes New York City streets, wrestles with his dog and runs science experiments with his nieces and nephews.