Western Wildfire Season Could Get Even Worse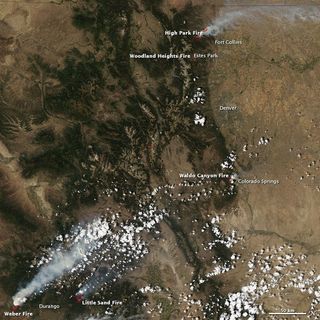 (Image credit: NASA)
For those in the western United States hoping for a respite from the raging wildfires that have plagued several states, the outlook isn't good: Much of the West is at high risk for continued wildfires due to unusually dry and hot conditions, and officials warn that it could get worse in certain areas as the summer draws on.
The record heat and drought through the Southwest that fueled last year's bad fire season in Arizona, New Mexico and west Texas has left those areas vulnerable to continued blazes, but also shifted to the north and west, said Chuck Maxwell, a meteorologist with the Southwest Coordination Center in Albuquerque, N.M. That means the areas now most at risk of wildfires include western Colorado and much of the Great Basin, an area that includes western Montana, southern Idaho, Utah, Nevada and California east of the Sierra Nevada Mountains.
Red flag warnings are also in effect in parts of 10 states, meaning that there's an "explosive fire growth potential."
There are currently 33 large wildfires burning in 12 states, according to the National Interagency Fire Information Center. Together, they've burned 2,151 square miles (5,571 square kilometers). That's slightly below the 10-year average of 3,018 square miles (7,817 square km). But that doesn't mean this year won't be as bad as previous years, since it's early in the fire season from a nation-wide perspective; it's too soon to say, Maxwell said.
"It's the beginning of a very ominous summer and I don't see conditions changing for some time," Erik Nilsson, the emergency manager for Colorado's Larimer County sheriff's office, said.
Ingredients for a bad fire season
The drought plaguing the Southwest has caused an abundance of dry grass, twigs and logs that fuel wildfires. Adding to the risk are high levels of winds and low humidity, along with so-called dry thunderstorms, which produce little rain but generate lightning that can ignite fires, Maxwell said.
"Start throwing together drought-stricken fuels, heat, wind and also lightning, and that's all the ingredients you need for a bad fire season," Maxwell told OurAmazingPlanet.
Browned grass and extremely dry wood have also helped fires spread once they start. "Fire can move through grass almost as fast as it can burn gasoline," Nilsson said.
Large amounts of dry, downed timber then keep fires going. In Colorado and other areas, there are also a lot of dead pine trees due to infestations of pine beetles. This has helped cause blazes with flames 300 feet (90 meters) long, unprecedented in the area, Nilsson said.
Conditions were exacerbated by a dry winter and less snow cover, resulting in less water runoff this spring and summer, National Weather Service meteorologist Ken Waters said.
Colorado wildfire woes
Colorado is in a particularly bad shape, with much of the state undergoing drought conditions worse than they've been in over a decade, Nilsson said. Nilsson helps lead the effort to fight the High Park Fire, the costliest in the state's history. Centered to the west of Fort Collins, Colo., it has burned 136 square miles (353 square km), and destroyed 248 homes, according to InciWeb, the interagency system that tracks U.S. fire-related incidents. Colorado currently has about 10 significant wildfires burning, he said.
There's some good news, however: The North American monsoon, which brings rain to the Southwest from Arizona to west Texas, looks set to begin about on time in the first week in July, Waters said. That should help put a damper on the wildfires in the Southwest, he told OurAmazingPlanet.
But that contrasts with the hotter, drier conditions to the north in Colorado and beyond, where precipitation from the monsoons may not reach and isn't guaranteed in the coming weeks. In Colorado, humidity is also very low, around 6 to 8 percent, Nilsson said.
It has already cost nearly $31.5 million to fight the flames of the High Park Fire, and 2.2 million gallons (8.3 million liters) of water have been dropped on it, according to InciWeb. The fire was 55 percent contained as of this morning (June 26), according to the site. Nilsson said he doesn't expected it to be contained until mid-July, and doesn't expect to have full control — meaning that there's no chance of the fire spreading — until Sept. 30.
This story was provided by OurAmazingPlanet, a sister site to Live Science. Reach Douglas Main at dmain@techmedianetwork.com. Follow him on Twitter @Douglas_Main. Follow OurAmazingPlanet for the latest in Earth science and exploration news on Twitter @OAPlanet. We're also on Facebook and Google+.
Stay up to date on the latest science news by signing up for our Essentials newsletter.
Douglas Main loves the weird and wonderful world of science, digging into amazing Planet Earth discoveries and wacky animal findings (from marsupials mating themselves to death to zombie worms to tear-drinking butterflies) for Live Science. Follow Doug on Google+.